Lululemon Flexes Its Muscles in CEO Audition
(Bloomberg Opinion) -- Lululemon Athletica Inc.'s chairman, Glenn Murphy, joked on the company's earnings conference call Thursday evening that you could laminate its latest results because they were so strong.
And Murphy is right: The athletic-apparel retailer showed itself to be in prime shape in the first quarter. Its comparable sales increased a whopping 20 percent over a year earlier, or 19 percent on a currency-adjusted basis. E-commerce sales rose 62 percent, and traffic to its stores increased in the "mid-single-digit range."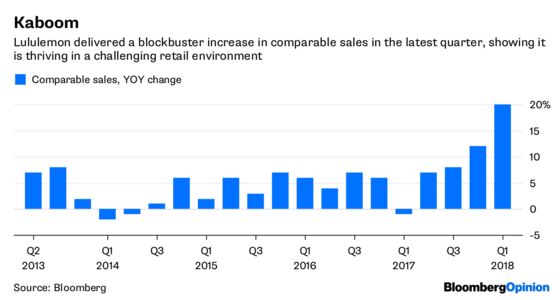 I've noted before that Lululemon should have little trouble thriving even as the athleisure fashion trend cools off, and the chain clearly demonstrated that in the first quarter. Investors took note, sending shares up more than 15 percent on Friday morning. It was also just the ticket as the retailer hunts for a new chief executive officer.
The number that best tells this story is the strong growth in gross margin, which rose to 53.1 percent from 49.4 percent a year earlier. Lululemon attributed the gain in part to lower product costs, reflecting a long-running effort to improve its supply chain.
But, crucially, the company also said that it sold a favorable mix of higher-margin products and that it didn't have to resort to as many markdowns. This is a powerful testament to Lululemon's product design and technical innovation. Shoppers, apparently, think its high price tags are worth it in a crowded market.
That gross margin improvement wasn't the only indication that the retailer is cutting through the competitive noise. The company said it experienced a 28 percent increase in new guests in the quarter over a year earlier. Importantly, 30 percent of those new shoppers were men, a group with which it needs to gain more traction to reach its goal of $4 billion in annual revenue by 2020.
Meanwhile, Lululemon is doing a better job of making sure it keeps existing shoppers engaged. The chain has doubled its file of customer emails since last year, thanks to new training and new technology for store employees.
And like many of its athletic-apparel counterparts, Lululemon's prospects in international markets look strong, with revenue up 53 percent in this segment over a year earlier.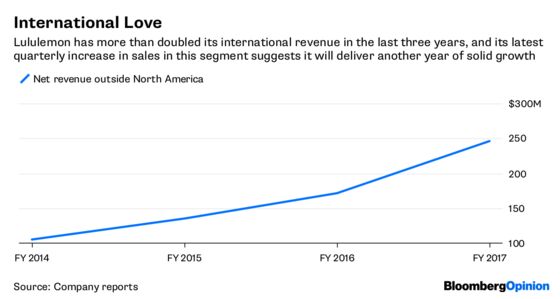 But unlike Nike Inc. and Under Armour Inc., Lululemon gets to seize that overseas opportunity without having to confront big headwinds at home, such as figuring out how to adapt as key wholesale partners such as department stores are struggling.
Lululemon parted ways with CEO Laurent Potdevin earlier this year after it found he had engaged in inappropriate workplace conduct. These latest results validate the point I made at the time — Lululemon will be fine without him.
The board of directors has an important and tricky choice to make in identifying his successor. It could use someone with a merchant's instinct for fashion and design, but it also needs a seasoned operator who can efficiently steer its international and digital growth. But here's the good news: I suspect this latest strong quarter, coupled with its solid holiday results, has only made this job more attractive to top industry talent.
So Lululemon shouldn't have much trouble finding a leader who can help it keep the good times rolling.