Italy Bonds Gain as Populists Take Power But Skepticism Lingers
(Bloomberg) -- Italian bonds climbed for the third day, extending a relief rally after the nation's two populist parties agreed to form a government.
Two-year securities led gains across the curve as the Five Star Movement and the League managed to piece together a team after their original pick for finance minister was vetoed. Giuseppe Conte, 53, a law professor with no political experience, will be sworn in as prime minister along with his cabinet later Friday.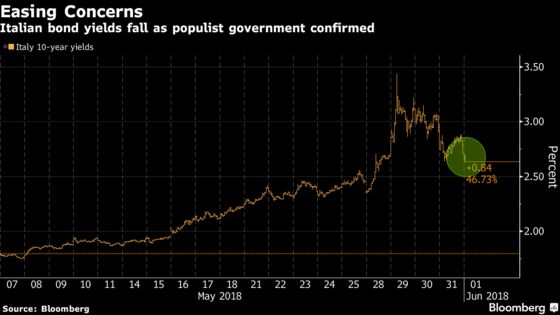 The new government is still seen as risky for long positions in Italian debt given dangers of credit downgrades and capital outflows, according to Societe Generale SA, which recommends using the rebound to add short positions. Analysts at ING Groep NV suggest markets will likely remain skeptical about the coalition's commitment to the European Union.
"There's a bit of 'once bitten, twice shy' in Italian bonds," said Richard Kelly, head of global strategy at Toronto-Dominion Bank in London. "You'll still see nervousness likely keep spreads and yields from falling back to where we started, but a lack of bad news for a while should let some compression continue for now."
Italian two-year rates fell 30 basis points to 0.76 percent, while 10-year ones dropped 17 basis points to 2.63 percent. The spread on the longer-dated note over German bunds narrowed by 20 basis points to 225.
In May, Italy's benchmark debt had the biggest monthly loss since records began as the political upheaval in Rome called the future of the euro into question. Spreads between Italian and German bond yields surged beyond 300 basis points on Tuesday, the widest since 2013. While they have now retreated, analysts remain skeptical on what a populist government will mean for fiscal spending and the nation's euro membership.
Despite the stunning losses this week, Pacific Investment Management Co's chief investment officer for global fixed income Andrew Balls told Bloomberg Television Thursday that he sees yields as "still pretty low." The firm has had an underweight position on Italy's debt, he added, as political and market uncertainties persist.
An ING note to clients published earlier in the week laid out a range of scenarios on how the Italy-Germany spread may move depending on how the political risks evolve over the next six to 12 months. The formation of the government means we are likely in a "muddling through scenario" that will see the yield gap settle in the 200-300 basis point band, ING strategist Martin Van Vliet said Friday.