European Banks' Latest Drop Seen as an Opportunity for the Brave
(Bloomberg) -- Here's a trade for the brave: long European banks.
Caught in a perfect storm of political turmoil in Italy and Spain, the Euro Stoxx Banks Index has entered bear-market territory, down 21 percent from its peak in January, evoking painful memories of the 2011-2012 euro debt crisis.
Italy's political drama was the latest blow to a sector that is just emerging from decade-long concerns over soured loans, profitability and economic stability. Since the lows reached amid the global financial crisis in early 2009, the sector index has only climbed about 30 percent, compared with a five-fold jump in their U.S. peers.
This is prompting a number of analysts to recommend buying the shares on the grounds that the region is still on a path of recovery, and a major crisis is unlikely this time around.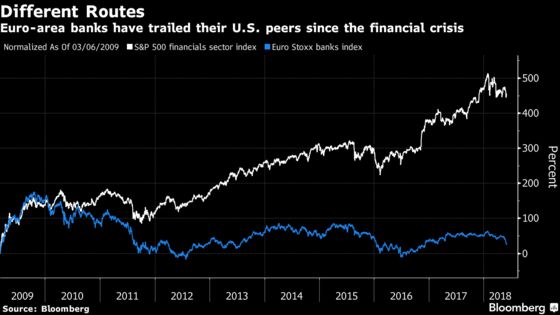 "Investors need not abandon the sector, nor tilt sharply toward value to seize this," Nick Davey, an analyst at Redburn, wrote in a note. "This might become a revenue problem, it is not a balance-sheet problem, unless a full-blown currency crisis is your core scenario."
Euro-area banks surged the most in nearly two months on Friday after Italy's populists managed to form a government. Still, buying the sector now is not for the faint of heart. The market implications of a populist administration may still be negative, given fears their policies would further worsen the nation's fiscal position and relations with the European Union would deteriorate. Either scenario could threaten regional banks' Italian debt holdings and confidence in the common currency.
Investors should pick banks that are likely to see continued earnings upgrades, Davey added. The sector is still likely to enjoy "proper lending growth" this year as the economy recovers and the dividend yield is attractive, according to AlphaValue. The Euro Stoxx Bank Index currently trades at a lofty dividend yield of 4.9 percent.
Beyond Italy, Deutsche Bank AG sank to a record low on Thursday on reports it was added to the U.S. deposit insurance regulator's list of troubled banks. It was then downgraded by S&P Global Ratings.
But more broadly, investors can take comfort in the fact that Europe's economy is in much better shape than in 2012 and the Italian population still mostly support the euro, said Vincent Juvyns, a global market strategist at JPMorgan Asset Management, which also recommends buying European financial stocks.
"The risk that Italy represents for the banking system in Europe is rather limited at this stage," he said.