Bund Options Bet Eyes $100 Million Payout on Euro-Area Cataclysm
(Bloomberg) -- The prospect of a full-blown collapse of the euro area may be minuscule, but one unnamed bond investor isn't taking any chances.
The trader has staked almost 300,000 euros ($350,000) on a bet that will pay out at least 100 million euros if 10-year bund yields slide to minus 2.30 percent in two months.
While it is unlikely that anyone in the market thinks that the scenario is realistic, it may represent a hedge on other positions. For instance, it represents a cheap way of insuring the value of a portfolio exposed to risk in the euro area, especially that of Italy exiting the euro.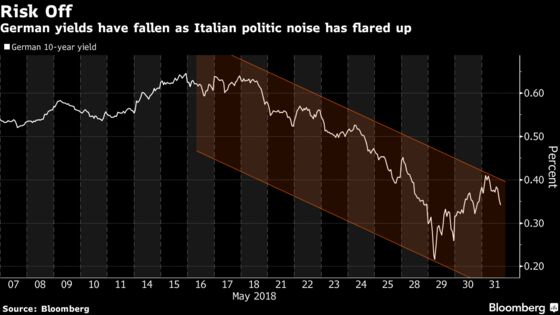 The "call" trade was undertaken on the September bund futures contract Wednesday, and will require enormous haven flows, most likely stemming from Italy abandoning the euro under a populist government, triggering a near-calamitous collapse in the common currency.
German bonds are among the safest assets to own and tend to rally during periods of heightened political risk. Ten-year yields dropped below zero percent -- if only briefly -- in 2016 during the height of the European Central Bank's quantitative easing program, and have never fallen below minus 0.21 percent. The ECB's benchmark interest rate currently stands at minus 0.40 percent.
Italy's Five Star Movement and the League, which are preparing to form a government, have both openly flirted with the idea of leaving the euro, which has been in place in the country since 1999. Italian 10-year bond yields touched the highest in four years earlier this week on the so-called "re-denomination risk."