BOJ Unexpectedly Cuts Bond Buying in Test of Yen Speculators
(Bloomberg) -- The Bank of Japan cut purchases of bonds for the first time since February, taking advantage of a global slide in yields brought on by political risks in Europe and trade tensions.
The BOJ trimmed buying of debt maturing in the five-to-10 year zone by 20 billion yen ($183 million) to 430 billion yen at Friday's regular operation. While the 10-year yield jumped the most in six weeks following the move, the yen weakened instead of gaining as expected by analysts.
The reduction caught markets by surprise, as analysts had suggested that the BOJ would be wary about encouraging speculators who read earlier cuts this year as a rollback of its stimulus policy. The currency's reaction on Friday indicated that Governor Haruhiko Kuroda's relentless messaging that the central bank is far from reaching its inflation target, and won't start to normalize its ultra-loose monetary policy anytime soon, has sunk in.
"It's a victory by the BOJ, given the market consensus is that the bank can't act as long as there's wariness over yen appreciation," said Naoya Oshikubo, rates strategist at Barclays Securities Japan Ltd. The limited yen reaction may pave the way for further reduction in bond purchases, he said.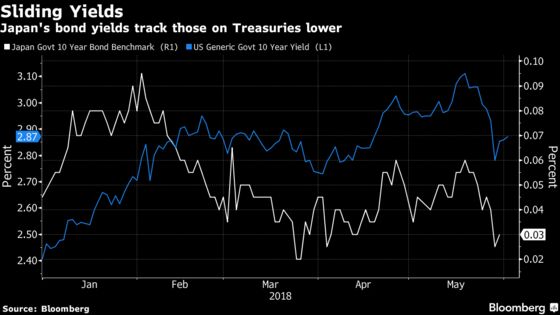 Bonds have rallied globally amid concerns over the political turmoil in Italy and renewed trade tensions between the U.S. and its partners. Japan's 10-year yield dropped to 0.025 percent on Tuesday, its lowest close since April 3. It was up 1.5 basis points at 0.045 percent as of 5:56 p.m. in Tokyo.
"The cut provided a nice catalyst as the yields were facing downward pressure," said Oshikubo of Barclays.
The yen slipped 0.3 percent to 109.18 against the greenback. Traders may be covering their dollar short positions before the release of U.S. jobs data later Friday, said David Lu, director at NBC Financial Markets Asia Ltd. in Hong Kong.
The yen's reaction on Friday is a far cry from early January, when the BOJ's move to cut purchases in some longer-dated bonds triggered a six-day advance in the currency. It climbed for three straight days after purchases of debt due in more than 25 years were lowered on Feb. 28.
Speculative moves drove up the yen initially, but it soon ran out of steam as follow-through was limited, said Daisaku Ueno, chief currency strategist at Mitsubishi UFJ Morgan Stanley Securities Co. in Tokyo.
Japan's central bank has stayed on course with its monetary stimulus, even as other major central banks move further toward policy normalization, as it strives to achieve its 2 percent inflation target. Data last month showed that price gains slowed in April to 0.7 percent when excluding fresh food -- not even halfway to BOJ's goal.
However, the central bank has been conducting 'stealth tapering' by slowly cutting bond purchases over time. It added slightly less than 50 trillion yen worth of bonds to its balance sheet in the year through the end of March, compared with a stated target to boost holdings of government debt by 80 trillion yen annually.
The BOJ hasn't reached a point where it can consider exit as inflation is far from its target, Kuroda said last week. The central bank will start communicating about exit when inflation improves and the economic environment is right, he said.
Friday's cut in purchases "shouldn't be seen as a sign of policy normalization," said Naomi Muguruma, a senior market economist at Mitsubishi UFJ Morgan Stanley Securities. "No one in the bond market thinks so and there is no chance that the BOJ was sending a signal now. Today's operation could have interpreted differently if inflation was moving toward its 2 percent target."