This Stock's 150% Gain Feeds the Dream of Biotech
(Bloomberg Opinion) -- When it comes to stock investing, few areas offer more risk or reward than biotechnology. On Thursday, tiny drug developer Madrigal Pharmaceuticals Inc. provided a reminder of what the reward side of the equation can look like.
Madrigal shares soared more than 150 percent after the company released positive results for a medicine it's working on to combat a fatty-liver disease known as nonalcoholic steatohepatitis, or NASH, which doesn't yet have an approved treatment. The surge adds to the stock's more than sevenfold gains over the last year, netting the eight-employee operation a market value of more than $3 billion. It's a reminder of the outsize returns that are possible in biotech, where hard work and a dogged, scientific approach can pay off very handsomely.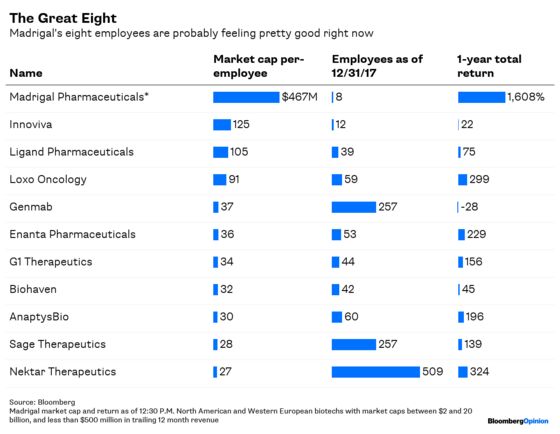 Madrigal's story begins with founder Becky Taub, who helped develop this drug while at Roche Holding AG. The pharmaceutical giant eventually gave up on it, but Taub believed it had potential in NASH, so she helped acquire it for a pittance and got it through early tests on a shoestring.
The company's early breakthroughs are no guarantee of ultimate victory. Madrigal must run a bigger final stage trial to get approval from the Food and Drug Administration, and its results may not hold up. And while its data was impressive, the drug didn't impact liver scarring to the degree that some hoped. That could come back to bite in a possible future battle for sales and market share. The NASH space itself is tricky and crowded, and its market potential may be overhyped. It's a difficult disease to confirm without a biopsy, and people aren't lining up to have a big needle jammed in their liver. 
Rivals in NASH have sputtered after early advances. Shares of Intercept Pharmaceuticals Inc. soared on early drug-test data, but have since been battered as other results, competitors, and safety issues have emerged. But for Madrigal, so far, so good.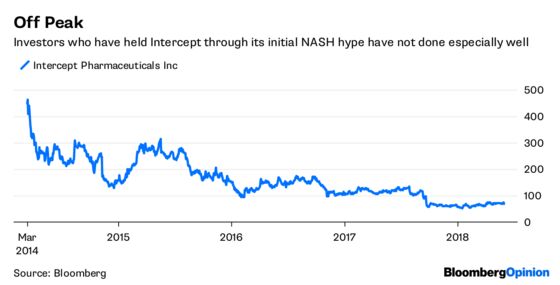 The biotech industry is too often known for its spectacular failures. Successes like Madrigal help keep the dream alive, and spur people into making the sort of risky bets that lead to great drugs.