Italy Heaps Pressure on the Macron Trade
(Bloomberg Opinion) -- France has a big stake in how the crisis in Italy develops. A government of anti-establishment parties hostile to the European Union would hinder Emmanuel Macron's push for euro-zone reform. Prolonged economic stagnation also threatens sizable investments by French companies and banks in Italy. The president, and investors betting on his policies, will need their luck to hold.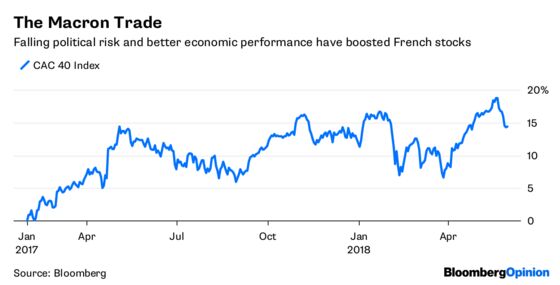 Macron has been trying to convince Germany of the need to strengthen the euro zone through more spending and more integration. He's tried to win over Berlin with a program of domestic reforms — including his assault on France's rail unions — and cuts to France's budget deficit. What should have followed was a virtuous cycle that would help to bridge the economic gap between North and South and dampen euroskepticism in the process.
No such luck. Italy's woes have put talk of grand reforms on pause, reckons Lorenzo Codogno, a former chief economist at the Italian Treasury. The return of chatter about a break-up of the euro zone may have been exaggerated, but Macron's hopes for more spending and the greater integration of euro-zone government budgets and banking industries now look overly optimistic.
The prospect of diverting an extra 30 billion euros ($35 billion) of funding to Italy, Greece and Spain from central and Eastern Europe doesn't really move the needle. There are now more hurdles ahead to delivering Macron's vision of an integrated Europe — just as the region's economic growth is starting to falter.
A dearth of convincing fixes for the euro zone's financial fragility, or for Italy's slow growth and high unemployment, matters for France's private sector. French lenders had nearly $310 billion at stake in Italy last year, more than any other country tracked by the Bank for International Settlements.
Billionaires like Vincent Bollore and Xavier Niel are making big Italy plays. French firms completed about $8.8 billion in Italian mergers and investments last year, including asset-manager Amundi SA's purchase of Pioneer. The current turmoil has yet to spill over into the real economy, but recent market wobbles aren't encouraging.
There aren't many obvious opportunities to snatch from this crisis. Perhaps Macron could gently point to Deutsche Bank AG's sinking share price and suggest that proper banking union and more pan-European mergers would be a good idea for Germany, not just Italy. He has, after all, shown himself adept at stitching together cross-border deals in other sectors.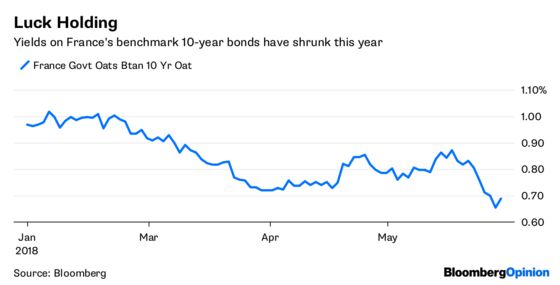 Macron will need luck if he is to keep delivering. The toughest parts of his domestic reform plan — including an overhaul of the country's pension system — still lie ahead. Markets are giving him the benefit of the doubt, but the Italian situation could spiral unpredictably. Macron pulled out the stops to snatch victory from the jaws of the anti-establishment vote in 2017. He may have to do it all over again.