It's Been the Year of the Winning Streak for S&P 500 Companies
(Bloomberg) -- Improbable as it may be, 2018 has been the year of the rally.
The S&P 500 Index has been getting whipsawed throughout the year, but three members have already strung together winning streaks of 15 days -- the most in a year since Bloomberg began compiling data in 2008. It's been since 2009 that any year has had more than one such streak.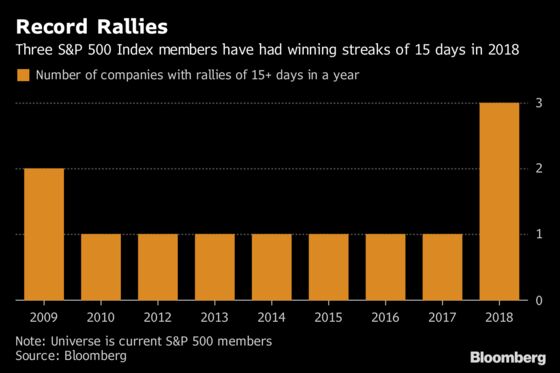 Fluor Corp., an engineering and construction company, started 2018 with a bang, trading up in its first 15 sessions. The stock plummeted almost 25 percent at the start of May, leaving it with a negative 3.69 percent return year-to-date through May 30.
IT consulting firm Cognizant Technology Solutions Corp. kicked off its own rally the day after Fluor's began. Unlike Fluor, it remains positive with a 7.12 percent gain.
Verisign Inc., the seller of online domain names, saw its 15-day, 9.28 percent streak come to an end on May 22. The stock has risen almost 2 percent since then and is up 14.2 percent on the year.
The longest rally in the last decade belongs to credit-rating company Moody's Corp. Its stock jumped 18.9 percent after closing up in 18 straight sessions during August and September of 2012.