GM's Self-Driving Unit May Eventually Be Separated, Analysts Say
(Bloomberg) -- SoftBank's "vote of confidence" sent General Motors Co.'s shares up the most since the automaker's 2010 re-listing. Several analysts said the latest development may mean that GM will separate its autonomous vehicle unit at some point in the future. Citi noted that the SoftBank investment highlighted the fact that GM's story includes a "highly overlooked and possibly game-changing element."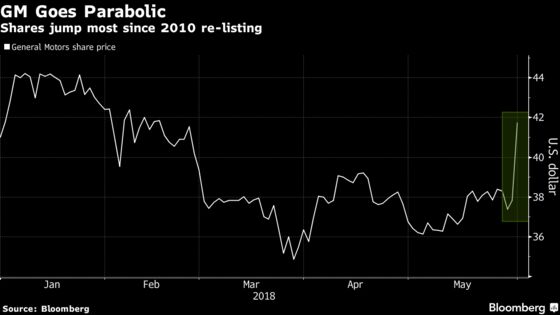 Here is a round up of the analyst commentary post the SoftBank news.
(Buy, price target $70)
SoftBank's investment is a "major vote of confidence" for GM Cruise and supports the notion that the automaker has a highly-overlooked and possibly game-changing element.
Says the investment provides Cruise with plentiful cash resources to launch and scale RoboTaxi autonomous vehicles starting in 2019.
(Buy, price target $52)
The development is significant as it marks a legal separation of GM Cruise from the rest of GM.
Would allow it to have access to private funding based on valuations that are more competitive with mobility/technology peers
Can attract other strategic investors and also signals a path towards an IPO.
Morgan Stanley, Adam Jonas
(Overweight, price target $48)
"SoftBank's $2.25 billion investment in GM Cruise values the business at a 6 times multiple to our valuation, enhancing sum-of-the-parts (SOTP) value and increasing the appeal of GM to technology, media and telecom investors at a critical time."
"All else equal, marking-to-market the GM Cruise valuation to $11.5 billion would take our GM SOTP valuation to $62 from $56 currently, suggesting more than 50 percent upside from the current price (before SOTP discount)."
Evercore ISI, George Galliers
(Raises to outperform from in line, price target $50 from $47)
"Before the announcement, we were assigning no value to the cruise assets."
"Investments are expected to provide the capital necessary to reach commercialization at scale beginning in 2019."
Piper Jaffray, Alexander Potter
(Overweight, price target $57)
"We think GM shares are not being given enough credit for GM's positioning in the robo-taxi business. In our opinion, this investment validates our view."
(Outperform)
The investment "provides GM the capital needed to help the company reach autonomous vehicle commercialization at scale in early 2019."
It affords GM increased capital allocation flexibility and should help unlock share price value.
"Had been valuing Cruise at about $4 billion, and GM's stake is now worth $9.2 billion."
"GM has a meaningful seat at the table for shared autonomous vehicles and we believe this deal affirms that view."
"GM could eventually look to float Cruise as well. We found it notable that Cruise will be a reporting segment starting 2Q 2018."
Buckingham, Joseph Amaturo
(Neutral, price target $39)
"GM investors who are bullish on the stock will likely be encouraged by this incremental development and we believe that this is a positive, prescient move by GM, although we remain guarded about the economic significance of Cruise over the short-term."
"Given that we do not expect any additional near-term investments to value the Cruise assets, we believe GM's stock will more closely track the fundamentals of the traditional automotive business, which we remain cautious on."