Global Banks' `Goldilocks' Growth Era Set to Wane, Moody's Says
(Bloomberg) -- Global investment banks will need to beat out their peers in deploying capital, technology and people, in order to survive in an "intensely competitive" sector, according to Moody's Investors Service.
"Accomplishing this day in and day out, while balancing shareholder and bondholder interests, requires great agility and will not be easy," Moody's analysts wrote in a research note on the industry Thursday. In it, they identify five U.S.-based global investment banks -- Bank of America Corp., Citigroup Inc., Goldman Sachs Group Inc., JPMorgan Chase & Co. and Morgan Stanley -- as best-placed to "seize opportunities and navigate the capital markets cycle."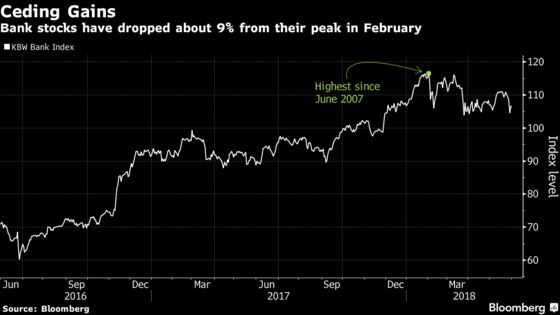 Managing Director Ana Arsov underscored "significant downside risks" as there is no "smooth or linear" relationship between growth and capital markets revenue. "The current 'Goldilocks' period of synchronized upward growth momentum, low inflation, low interest rates, steadily rising asset prices and historically low financial market volatility will wane," she wrote.
Bank stocks, which are sensitive to interest-rate shifts and geopolitical risks, fell Thursday as the Trump administration said it's imposing tariffs on steel and aluminum imported from the European Union, Canada and Mexico. Ten-year Treasury yields slipped 1 basis point. Bank of America and JPMorgan were among the worst performers, each dropping as much as 1.8 percent.