Bond Traders' Fed Wagers Now Hinge on Jobs as Italy Angst Ebbs
(Bloomberg) -- After Italian politics whipsawed Treasuries this week, bond traders are about to turn their focus back to U.S. domestic prospects with Friday's release of the monthly labor report.
At stake is the market's outlook for the path of the Federal Reserve in the run-up to a widely expected June 13 rate increase. Traders are rebuilding bets on Fed tightening after Italy's crisis roiled markets Tuesday. They've priced back in expectations for three total increases in 2018, while stopping short of factoring in a fourth. Just a couple of weeks ago, wagers on that more aggressive pace were starting to take hold.
While U.S. tariffs diverted the market's attention Thursday, the May labor data still hold the key to reviving the three-versus-four-hike debate. The report could bolster confidence that the U.S. is weathering turbulence overseas and resilient enough to withstand higher borrowing costs, said John Briggs at NatWest Markets.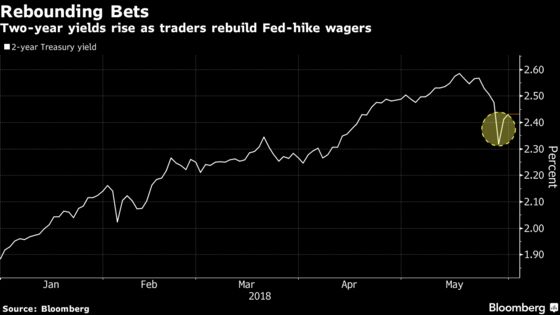 "It has a bit more value than in the past, meaning if you have a better-than-expected number, there's a chance it can mollify markets," said Briggs, the bank's head of strategy for the Americas. "If we can firewall this as an Italian problem and everything else is OK, then I think we can get back towards a total of four this year."
Two-year Treasury yields rose 2 basis points Thursday to 2.43 percent. The maturity, which is more sensitive to Fed expectations than longer-dated debt, staged its biggest rally since 2009 on Tuesday when concern mounted that Italy might face a de facto referendum on membership in the euro. The yield tumbled 16 basis points to 2.32 percent that day.
The U.S. yield curve flattened Thursday, with the gap between 2- and 10-year yields shrinking to the smallest since 2007 as traders repriced the Fed's path higher. Now all eyes are turning to Friday's data to gauge whether those bets need to be even more aggressive.
NatWest forecasts an increase of 180,000 jobs in May. While that would be up from April's 164,000 gain, it's below the consensus call for 190,000.
A result that matches or beats expectations would push up yields and rate-hike wagers, Briggs said. The opposite could have an outsized influence on the market if it fosters doubt about the U.S. economy, he said.
"If it's worse than expected, you could see a situation where you're raising concerns that Italy is falling apart, we're worried about Europe and now the U.S. is slowing down," he said. "You could see it having a larger impact than normal because markets are a little bit more on edge."
Beyond the headline figure, traders will be looking for signs that the lowest jobless rate since 2000 is pressuring wages higher.
The consensus is for a 0.2 percent pickup in average hourly earnings from April, double the pace seen in last month's report.
Given that the Fed has indicated it would welcome a modest overshoot in inflation, markets would likely need to see wages grow by 0.4 percent or 0.5 percent to gain confidence in a fourth 2018 hike, according to Priya Misra, head of global rates strategy at TD Securities (USA) LLC.
"You need a really solid sign of wage inflation" for traders to ratchet up Fed bets, Misra said. "Then it might look like the Fed is behind the curve on inflation, so that's what would bring the fourth hike."
That's not her base case. She forecasts payrolls will increase by 200,000 and earnings will come in as expected, supporting TD's call for just two more hikes in 2018.
For Misra, even though payrolls are about to take center stage, the bond market can't exactly ignore external events.
Trade tensions are re-emerging. In Spain, lawmakers are due to vote on a no-confidence motion Friday against Spain's prime minister. And in Italy, the euro region's third-largest economy, populist parties are set to take power with a fiscal program that poses a challenge to European rules.
"The market's come a long way because of the political risk in Italy, and I think that remains a fluid situation," Misra said.