Beware the Local Bettor: Lessons From Vegas's Hockey Knightmare
(Bloomberg) -- Nevada's casinos have taken a bath all year on the state's new professional hockey franchise, and if the Vegas Golden Knights win the Stanley Cup, sports books will lose millions more.
Las Vegas's oddsmakers have never been so exposed en masse. They expected locals to bet on the home team, but not as much as they did -- and anyway, the book makers thought it was a loser's bet. Expansion teams aren't supposed to be good; before the season, almost every expert picked the team to finish dead last. After a 3-2 loss to the Washington Capitals in the second game of the Stanley Cup finals Wednesday night, Vegas is just three wins from the title.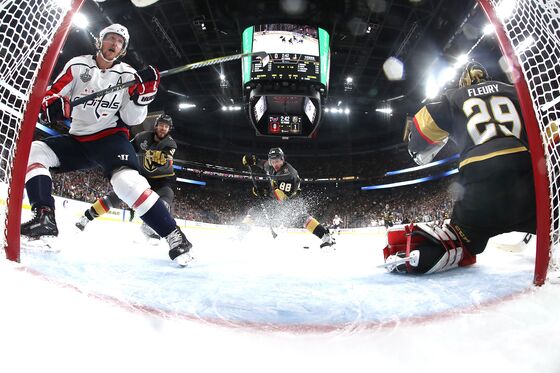 There's a wider lesson in the losses facing Vegas's sports books. As companies prepare to establish sports betting in individual U.S. states, they're confronting a whole new calculus for managing their own financial exposure, one that has to account for just how much people like to bet the home team.
Usually, bookmakers balance their exposure by making small tweaks in the odds so that they end up with enough money on both sides. It's inexact, and most are happy to get close enough across, say, a week's portfolio of games.
"If you're only operating state-by-state, that changes things quite a bit," said Todd Fuhrman, a former oddsmaker at Caesars Entertainment and current host of the Bet the Board podcast. "Every book's risk management group is going to need to figure out their philosophy for handling local teams."
In Nevada, plenty of people took a flier on preseason odds as wide as 500-1 on the Golden Knights to win the Stanley Cup. One casino group even offered free betting slips on the unlikely outcome. But there was also a lot of one-sided action for individual games. William Hill, the state's biggest bookmaker, often lost more than $100,000 on Knights' regular season wins.
"We're on the hook for a little under $2 million on the Stanley Cup alone, but losses along the way have been the really rough part," said Nick Bogdanovich, William Hill U.S.'s director of trading. When asked for the total number the book has lost on the Knights, he said, "I'm afraid to look."
Because of the state-by-state nature of the new sports betting landscape, bookmakers are forbidden from pooling the money they take across state lines. Established operators like William Hill and MGM, which are expanding to new states, will at least have a broader cushion from global operations overall.
It will be harder for new operators like Churchill Downs Incorporated, which has partnered with Atlantic City's Golden Nugget casino to offer sports betting in New Jersey, and daily fantasy giant DraftKings, which is currently pursuing a casino partner in the state. It recently launched ads that read, "Why should Vegas have all the fun? DraftKings Sportsbook is coming to NJ." Both companies declined to comment on their risk management plan.
Operators have a few options. They could adjust the line before betting starts, called "shading," essentially devaluing the local team in anticipation of heavy betting. This happens across different provinces in Canada, Fuhrman said. The odds on Toronto Maple Leafs games may open differently in Ontario, for example, than in British Columbia.
There's also an option called "layoff betting," in which one sports book places a large wager with another sports book to try to offset its risk -- essentially, providing a kind of insurance for one another. The challenge is finding a sports book to take that wager; in Las Vegas, there wasn't an option for laying off the Golden Knights, because everyone was overexposed in the same way.
There's also the possibility of a new class of insurance to help books manage risk, said Chris Grove, managing director at Eilers & Krejcik Gaming. "It's a solvable problem," he said. "It will be an issue, for some operators more than others, and certainly those in single states, but if it is that big of an issue, it creates some pretty strong economic incentives to solve it."
The William Hill team hasn't yet laid out its plan. Bogdanovich expects the company's risk strategy to be similar to what it's done so far. Yes, that left them on the hook for millions on the Golden Knights. It's also helped them become one of the world's biggest book makers.
"We'll let the public pick their poison," he said. "If we happen to have a big decision on the Yankees or the Giants, that's just the way it's going to be."