Vivendi May Try to Claw Back French Soccer After Upset: Analysts
(Bloomberg) -- The outlook for Vivendi SA's pay-TV unit Canal+ was dented by the unexpected loss of French soccer league rights from 2020 after Chinese-backed competitor Mediapro took home most of the packages, following an auction that saw prices rise by 60 percent. Shares fell as much as 5.7 percent, the most intraday in more than three months.
Canal+ is likely to bid for sub-licensing rights from Mediapro, analysts said, given the importance of the rights to keep customer churn in check and the latter's lack of a distribution network. The surprise result of the auction may lead to negative sentiment toward French telcos overall, according to Berenberg, while Goldman notes a possibility of a new tender if Mediapro fails to provide necessary guarantees, a similar outcome as in Italy recently.
Here's a roundup of what analysts had to say about the auction results.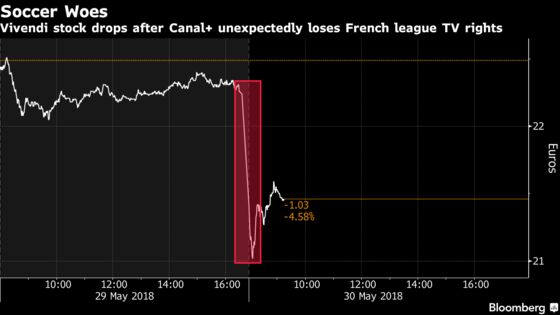 "French soccer was part of Canal+'s DNA, this opens a risky period of uncertainty" for Vivendi's pay-TV platform in France.
In the first scenario, Canal+ could buy a sub-license, retaining some rights with reduced inflation in costs and a lower number of broadcast games. The rights would presumably be priced highly by the winners.
A second scenario is that Canal+ tries to survive without French soccer, likely seeing a further erosion of the client base. An offering more focused on cinema and series would face off against emerging over-the-top services with "deeper pockets and an ability to push pricing down."
Maintains hold rating on Vivendi, cuts price target to 24 euros from 25 euros.
Sees three possible scenarios for the soccer rights:
Canal+ would need to sub-licence Lot 1 and 2 to match their current offering, which would be a safer option than having to bid aggressively in the blind auction in the first place.
In the second scenario, Mediapro will launch its own pay-TV channel and reach distribution agreements with various operators, including Canal+. This would most likely result in limited subscriber losses but greater ARPU dilution for Canal+.
Notes that in Italy, Mediapro could not provide the necessary guarantees and subsequently had the contract canceled, can't rule out the possibility that this could happen in France, with rights then put up for tender again before 2020.
Maintains buy rating on Vivendi.
Outcome of the auction is a real surprise and should lead to negative sentiment toward French telcos as the "stability of the pay-TV landscape is jeopardised and consequences will not be identified immediately."
Expects "a meaningful negative reaction" for Vivendi as Canal+ no longer has the capacity to decide its fate, with Mediapro able to choose whoever it wants to resell some rights to if it decides to do so. Resale is "very likely" considering Mediapro has no structure in France, and probably has until around the fourth quarter of 2019 or first quarter of 2020 to decide.
Losing the exclusivity of the main French football TV rights could lead to Canal+ becoming a "local premium Netflix," which is not a future proof positioning for the company.
Maintains Orange at hold, Iliad and Bouygues at buy.
"This is unlikely to be as big an issue for Vivendi as it seems."
Given that Mediapro doesn't have a distribution network and is unlikely to build one from scratch, a sub-licensing deal with the largest pay-TV distributor in Canal+ is "almost certain if Mediapro wants to make the economics work."
Expects that regulator won't allow Mediapro to charge Canal+ an excessive amount for its content, likely to try and ensure obligations under current distribution arrangements are replicated. Canal+ is also such a big producer of French audiovisual content that the regulator is likely to support the group.
Sees Canal+ churn "relatively limited," assuming that in practice it will continue to show the bulk of the rights because of the sub-license deals.
Rates Vivendi buy, price target 27 euros.
Raymond James, Stephane Beyazian
"We do not believe that there is a business case for such expensive rights in France."
Mediapro may gamble that it can resell broadcasting rights for about 200 million euros a year simultaneously to a couple of existing players, for instance to Canal+, beIN Sports, SFR and Orange, and/or to newcomers.
Canal+ faces losing a large fraction of its 1.5 million to 2 million regular football viewer base, translating to as much as 850 million euros ($986m) of lost revenue at a high margin.
Iliad may potentially offset the impact on the rights it won with its upcoming new over-the-top Freebox bundle, expected in September.
Market entry of Mediapro is bad news for Altice's media strategy.
Rates Iliad strong buy, Vivendi outperform.