Turkish Lira Extends Its World Beating Advance to a Third Day
(Bloomberg) -- The lira climbed the most among major global peers for a third straight day, buoyed by the dollar's decline and optimism over the central bank's readiness to shore up the currency.
It appreciated as much as 2.1 percent, putting the Turkish currency on course for its longest winning streak in a month. While options traders are still pessimistic on the lira, they're paying less to bet on its decline than the ruble for the first time in about two weeks.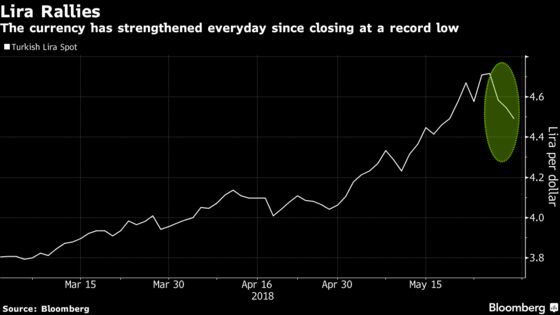 Sentiment toward Turkish assets shifted over the past week after policy makers boosted borrowing costs and announced a plan to simplify its tangled interest-rate regime. Money managers who met Turkish officials in London on Tuesday said the central bank is prepared to raise interest rates if inflation rises in May, if needed.
President Recep Tayyip Erdogan's pledge to comply with global monetary policy principles after the election in June also helped, Societe General strategists Jason Daw and Phoenix Kalen said in an emailed note. They see the rebound in the currency extending further.
Even with the lira's advance so far this week, it's among the world's worst performers this month after concern over the nation's double-digit inflation and current-account deficit put the currency at the center of an emerging-market selloff. The Turkish delegation in London told investors that addressing those issues are the government's top two priorities, Deputy Prime Minister Mehmet Simsek said on Wednesday in a Twitter post.
The lira added 2 percent to 4.4564 per dollar as of 3:06 p.m. in Istanbul. The yield on 10-year government bonds was little changed at 13.97 percent, while the yield on two-year bonds fell four basis points to 17 percent.
The premium of options to sell the lira over those to buy it over the next month -- known as the 25 Delta risk reversal -- declined to 3 percentage points from 4.15 on Friday, a 2016 high, according to risk-reversal prices compiled by Bloomberg.