Santander Falls as Fiat Chrysler Seen Adding Own Finance Arm
(Bloomberg) -- Santander Consumer USA Holdings Inc. shares fell the most intraday in almost two years after its auto-finance partner Fiat Chrysler Automobiles NV was said to prepare an announcement on forming its own captive lending unit.
As part of its five-year strategy plan to be announced Friday, Fiat Chrysler is likely to announce the intention to form a finance unit in the U.S., Bloomberg News reported Wednesday, citing people familiar with the automaker's plans. Shares of Dallas-based Santander plunged as much as 9.6 percent, the steepest intraday drop since July 2016.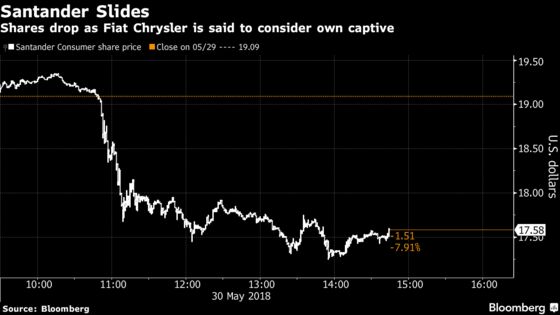 Santander Consumer has struggled to reach market share targets that it set along with Fiat Chrysler as part of the 10-year financing agreement the two companies inked in 2013. The lender financed 28 percent of Fiat Chrysler's total loans and leases as of the end of December, well short of a goal to reach 65 percent by the end of April, according to a regulatory filing.
Last August, the Santander's Chief Executive Officer Scott Powell met with Fiat Chrysler executives during his first day on the job to find ways to capture more business.
"We can't speculate on FCA's strategy for its U.S operations," Santander said in an emailed statement. "Santander is the preferred provider for FCA's consumer loans and leases and dealer loans via Chrysler Capital and we continue to operate in the existing agreement."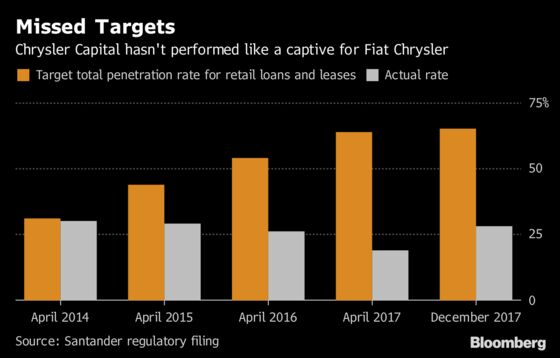 The lender's financing agreement with Fiat Chrysler can be terminated if Chrysler Capital fails to meet origination goals within the first five years, according to Santander filings, which note that this could have a "materially adverse impact" on its business.
In forming its own captive lender, Fiat Chrysler could also pose problems for Ally Financial Inc. The bank originated $2.44 billion worth of loans and leases for Fiat Chrysler dealers last year, which was more than a quarter of its consumer automotive business, according to a regulatory filing.
Ally shares fell as much as 3 percent. A representative for the Detroit-based company didn't immediately respond to a request for comment.