Memory-Chip Market Fears Flip Micron 6% During Trading Day
(Bloomberg) -- Micron's reversal of almost 6 percent on Wednesday is being attributed by some traders to a cautious note on memory-market demand from an independent research firm.
Analyst Matt Bryson said in an interview that ABR Investment Strategy, which has been "very positive" on the market for DRAM memory, is shifting to a more neutral stance in the second half of the year based on conversations with brokers and module makers.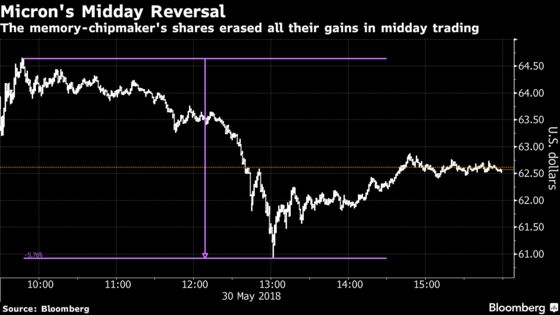 "They're getting more nervous, and that makes me more nervous around what could happen over the next few months," Bryson said. "A month ago I would have predicted stable pricing, I just don't know that that's the case anymore."
Bryson, who has covered storage and hardware stocks since 2001 when he joined Avian Securities, acknowledged that what he's seeing could simply be typical seasonality.
Micron initially rose as much as 3.3 percent after Keybanc said that memory supply updates suggest strong DRAM pricing will continue. It turned negative with rival Western Digital around midday. Both stocks closed little changed.
DRAM prices have fallen more than 10 percent this year, according to data from inSpectrum Tech Inc.
Micron has gained 36 percent in May and is on track for its best month since 2009. Chief Executive Officer Sanjay Mehrotra is scheduled to present at the Bernstein Strategic Decisions Conference on Thursday in New York at 1 p.m.
ABR produces research on technology and health-care stocks and doesn't publish ratings or price targets.