Madewell Keeps J. Crew Afloat as Retail Remains a Battleground
(Bloomberg) -- J. Crew Group Inc. has one persistent bright spot as it tries to revive its business: Madewell.
The younger, more casual brand that made its mark in denim said same-store sales, a closely watched measure, skyrocketed 31 percent in the first quarter -- nearly triple the 11 percent rise the previous year.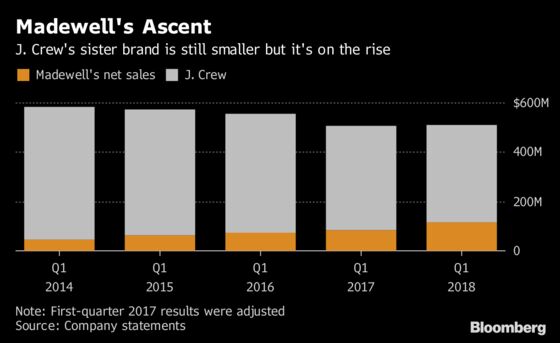 Chief Executive Officer Jim Brett is trying to capitalize on Madewell's success by introducing more categories without making the over-expansion and fashion mistakes that have plagued J. Crew. Madewell's strength helped offset a 6 percent drop in the J. Crew brand's comparable sales, helping the closely held company's overall same-store sales eke out a small increase -- the first gain since 2014.