Attention Jeff Bezos: Raleigh Tops Amazon.com HQ2 Ranking
(Bloomberg) -- ATTOM Data Solutions has ranked the finalists for Amazon.com's proposed second headquarters based on housing and quality of life.
Raleigh, North Carolina -- with relatively affordable homes, above-average school scores and below-average crime rates and property taxes -- is No. 1, according to the curator of data on America's property market.
Boston -- considered by some a favorite -- is last. New York also ranks poorly.
Atlanta, Pittsburgh, Nashville and Austin round out the top five.
The Washington area trio of Montgomery County, Maryland, the District of Columbia and Northern Virginia -- all making separate bids -- are No. 9, No. 12 and No. 13.
While there are 20 finalists, ATTOM ranked 19 U.S. locations only. The other finalist is Toronto in Canada.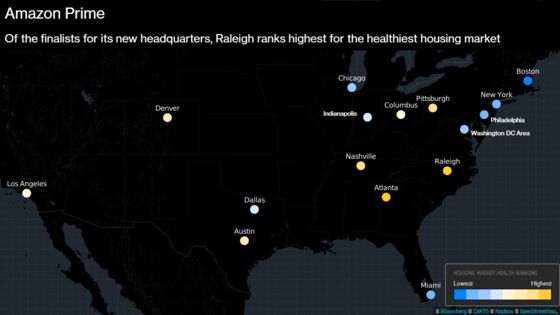 Seattle-based Amazon.com's second corporate headquarters is projected to cost more than $5 billion and create 50,000 jobs over 10 to 15 years.
Place

Q4 2017 Median Price

5Y Chg%

Price/
Income

Avg. School Score

Crime Rate

Effective Property
Tax

Environ-mental Risk Score

Rank

Raleigh
$235,000
26%
3.69
1.13
96
0.86%
2.58
1
Atlanta
$220,000
69%
3.68
0.99
303
0.98%
1.77
2
Pittsburgh
$150,000
36%
2.55
1.06
215
1.79%
2.52
3
Nashville
$275,000
67%
5.16
0.87
126
0.74%
2.22
4
Austin
$361,000
114%
4.93
1.06
98
1.84%
3.49
5
Denver
$346,500
73%
5.86
0.92
179
0.49%
4.92
6
Los Angeles
$776,000
88%
14.51
0.85
143
0.68%
1.64
7
Columbus
$138,000
52%
2.89
0.85
190
1.79%
3.83
8
Montgomery County, MD
$400,000
8%
3.59
1.17
34
1.00%
93.6
9
Indianapolis
$130,000
16%
2.6
0.81
287
1.02%
3.09
10
Dallas
$284,619
246%
5.21
0.93
194
2.23%
3.55
11
Washington, D.C.
$520,000
21%
6.47
1.17
316
0.64%
2.12
12
Northern Virginia
$395,000
14%
3.83
1.04
53
1.00%
58.37
13
Chicago
$223,000
48%
4.43
0.92
231
1.34%
3.59
14
Philadelphia
$140,000
27%
3.09
0.65
256
1.09%
4.77
15
Miami
$285,000
71%
5.77
0.95
233
1.05%
10.57
16
Newark, NJ
$204,000
69%
6.47
0.52
42
2.32%
80.59
17
New York
$1,445,000
41%
14.79
1.09
82
1.15%
54.5
18
Boston
$670,000
50%
9.57
0.6
115
0.91%
34.04
19