Japan's Retail Sales Pick Up in April, Beating Expectations
(Bloomberg) -- Japan's retail sales beat expectations in April following a dip in March, increasing more than forecasters predicted.
Highlights
Retail sales rose 1.4 percent in April (forecast +0.5 percent) from March, when they fell a revised 0.6 percent.
Sales increased 1.6 percent from a year earlier (forecast +1 percent).
Sales at department stores and supermarkets fell 0.8 percent from the previous year (forecast +0.2 percent).
Japan needs stronger consumption to bolster a recovery that's depended heavily on exports. Wages have been growing as companies hire more permanent, full-time workers, giving households more purchasing power. Increased spending would make Japan's recovery more durable while also aiding Bank of Japan Governor Haruhiko Kuroda in his quest to generate 2 percent inflation.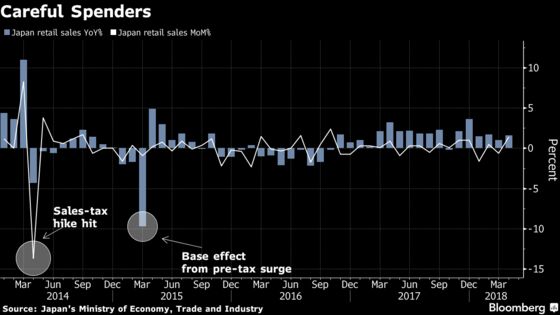 "The weather has improved now and vegetables prices aren't rising as much, so I think consumption will rebound in the second quarter. That will help retail sales out," said Masaki Kuwahara, senior economist at Nomura Securities, before the data were released. He noted that nasty weather and high vegetable prices held down consumption and cut sales in the first quarter.
Personal consumption still remains weak overall, he said. "I think wages are still holding it down."