Investors Take Fright at U.K. Retail's Warnings
(Bloomberg Opinion) -- With Brexit looming, profit warnings have become the new black for the British High Street. In the first quarter, a fifth of the country's biggest publicly traded retailers warned earnings would fall, according to accounting firm EY.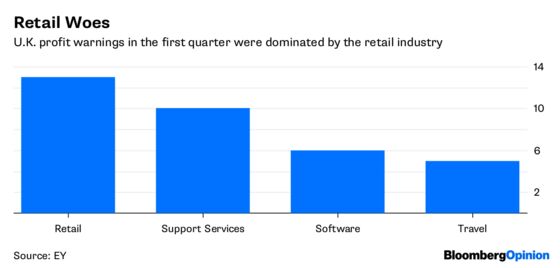 Worries about the economy are present, obviously, but heavy selling from investors -- Dixons Carphone Plc's stock fell 20 percent on Tuesday after its latest warning -- suggests this isn't just about Brexit. There are deeper-seated issues that CEOs have to fix.
Dixons is a case in point. Yes, the squeezed British consumer has cut back on non-essential spending, but the pace at which this market-leading British seller of phones and electricals is losing profit is seriously concerning.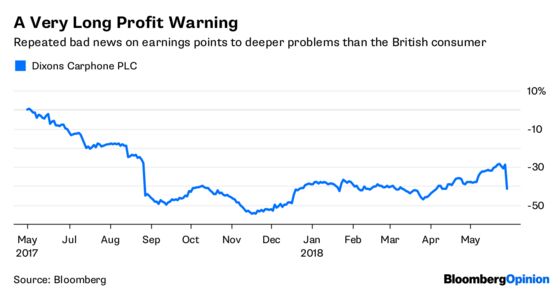 After warning in August that pretax profit in the year through April would be between 360 million pounds ($478 million) and 400 million pounds, new CEO Alex Baldock revealed on Tuesday that the figure for the coming fiscal year will be even lower, at about 300 million pounds.
The reasons Dixons gave for the decline amount to a mix of kitchen-sinking by the new management and problems left over from their predecessors.
Software platform Honeybee, a point of pride last year, has been sold after racking up losses. One-time accounting gains that added 25 million pounds to last year's profit won't be repeated.
Then there's the well-known problem of consumers holding off upgrading their mobile phones. That's being compounded by contract negotiations with networks and the impact of falling line-rental revenues that are linked to inflation rates.
While Dixons is in a far stronger position than other hard-up retailers, given its strong market share, relatively low debt load and ability to shutter stores, there is a broader sense across the industry that past optimism -- on leverage, on assets, on investment -- is starting to unravel.
This helps to explain the scale of some of the share-price moves seen after recent profit warnings. Declines of as much as 50 percent are getting more common as struggling companies that have loaded up on debt and sold off property assets find that a small drop in revenue creates a much deeper scar on the bottom line.
In the case of Dixons, the 20-percent move points a similar story: The company's warning was driven by rising operating expenses and one-time items. This isn't a tale of reckless borrowing, sure, but poor earnings visibility and opaque communication are a wake-up call. 
Baldock says that the company under-invested while trading had been strong. He now promises to spend an 30 million pounds in the U.K., equivalent to 10 percent of expected pretax profit in 2018/2019. To reduce operating costs, he plans to close about 92 stores – a figure that may have to increase, according to Bloomberg Intelligence analyst Chris Chaviaras.
Dixons's problems are solvable, but its structural issues remain, reckons Alphavalue analyst Nishant Choudhary.  The same goes for many other retailers. The U.K. economy is holding up, but investors are right to predict a far more negative outlook for the industry.