Scottish Leader Pushes Customs Union With EU Brexit Negotiator
(Bloomberg) -- Scottish First Minister Nicola Sturgeon reiterated her goal for the U.K. to remain in the customs union and single market in a meeting with Michel Barnier, the European Union's chief Brexit negotiator, in Brussels.
Sturgeon's aim was to ensure that the EU understands Scotland's concerns, according to a statement from her office. She said in an interview with Politico after the meeting that the EU was sympathetic to Scotland's predicament after the nation voted to remain in the bloc and will be taken out because of decisions made elsewhere in the U.K.
British Prime Minister Theresa May has said she'll put her Withdrawal Bill to parliament in June before the next critical summit with the EU. The governing Conservative Party is split on whether the U.K. should stay in a customs union with the bloc or try to seek some other arrangement. May has repeatedly said the U.K. will leave in order to strike its own global trade deals.
Sturgeon said a moment of truth is ahead and it's likely there's enough support in the British Parliament, including from her Scottish National Party, to push the U.K. toward a deal that keeps it in the customs union.
"Reality at some point has to bite for the U.K.," Sturgeon said. "Currently the government is trying to reconcile a whole plethora of irreconcilable issues."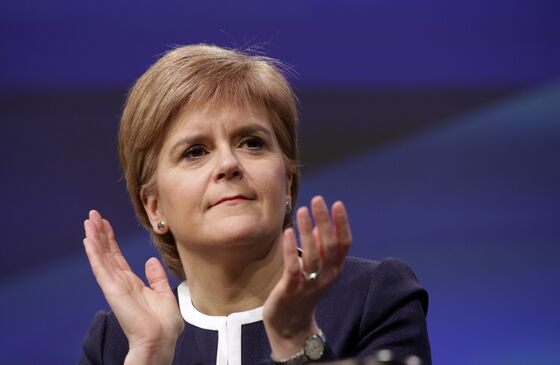 The Scottish leader, who runs the semi-autonomous government in Edinburgh, has said she wants to hold another independence referendum once the outcome of Brexit is known.
In recent weeks, the Scottish Parliament withheld consent for May's key Brexit bill and set up a potentially prolonged constitutional confrontation. The SNP also set out its economic case for independence in a report that's designed to rekindle the debate on Scotland's future.
Scots voted 55 percent to 45 percent to stay in the U.K. in September 2014. Sturgeon said at the Politico event in Brussels that any fresh independence referendum campaign would extenuate the positives of Scotland rather than limiting the fallout from Brexit.
"Whatever the timing of a second independence referendum, it's important that the debate is really well informed," she said.