Colombia Heads to Runoff as Rightist Wins First Round Vote
(Bloomberg) -- Ivan Duque, an investor-friendly lawyer whose campaign against the peace accord with Marxist guerrillas has divided Colombians took first place in the country's presidential election on Sunday.
Duque, 41, an ally of former President Alvaro Uribe, got 39.1 percent of the vote with 99 percent of polling stations reporting in the May 27 election. In a June 17 runoff he'll face former guerrilla Gustavo Petro, who got 25.1 percent, presenting voters with a stark choice.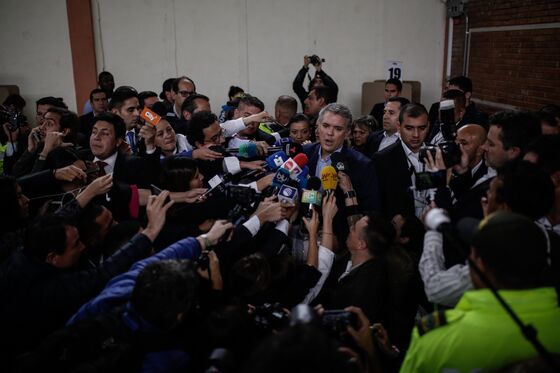 The new president will need to deal with a the future of a controversial peace accord that ended a 52-year civil war, soaring cocaine production and a sluggish economy.
Duque, a U.S.-educated former Senator, campaigned against the 2016 peace accord with Marxist rebels, saying it was too lenient to those guilty of serious crimes. He may seek to undermine it in various ways, while Petro backs the deal.
Petro, a former Mayor of Bogota, wants to reduce the country's dependence on oil and mining redistribute land and develop new export markets such as avocados, while Duque is a supporter of oil and mining exploration.
Colombia's economy grew at its weakest pace since the global financial crisis last year, as consumer confidence slumped and the government's highway-building program stalled following a corruption scandal.
The government's peace process with the Revolutionary Armed Forces of Colombia, or FARC, has also run into some trouble. The guerrillas handed over their weapons last year, and relaunched themselves as a legal political party, but the areas they abandoned were swiftly taken over by drug-trafficking gangs and dissident FARC members disaffected with the peace process.
Production of coca, the raw material for making cocaine, more than tripled between 2012 and 2016, fueling violence in the countryside where it is grown.