As Europe's Risks Flare, Everyone Piles Back Into German Bunds
(Bloomberg) -- A cocktail of risks across Europe means only one thing for investors seeking safety: buy German bonds.
Bunds are headed for the biggest weekly gain in nearly six years. As fiscal profligacy looms large over Rome, Spain's Prime Minister faces a possible no-confidence vote, Turkey confronts a currency crisis and fresh trade war tension emanates from the U.S., the appeal of Germany's debt is likely to persist.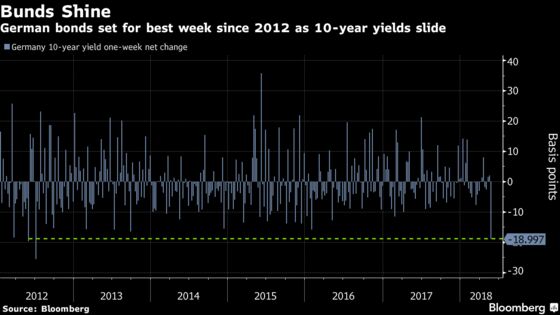 "It is perfect mix of news for the bund bulls," said Martin van Vliet, senior interest-rate strategist at ING Groep NV. "It all very much depends on Italy. If we get fresh, worrying headlines then there is scope for bund yields to go lower."
Germany's 10-year bonds are on course for their best week since July 2012, with yields down by 19 basis points to 0.39 percent. The premium demanded to own Italy's debt over Germany spiked to 215 basis points on Friday, the highest in four years. The surge in Italian yields may leave many bondholders with non-carry-adjusted losses, according to Morgan Stanley.
Losses in Spanish bonds competed with Italy on Friday after a party that holds the balance of power in the Madrid parliament said it's ready to back a no-confidence vote against Prime Minister Mariano Rajoy unless he calls a snap election. That sent the yield on Spain's 10-year bonds surging 13 basis points to 1.52 percent and led peripheral euro-area spreads to widen further against bunds.
Then there's the region's economy. Recent euro-area figures have been underwhelming and further weakness in data could provide "fresh ammunition" for bund bulls, dictating the timing and pace of policy normalization by the European Central Bank, ING's van Vliet said.
"Clearly the uncertainty around Italy is key -- as investors are questioning the need for ECB action and the extent to which the ECB can act," said Renuka Fernandez, a strategist at Nomura International Plc. "Secondly it's the data."
With European data diverging from improving U.S. numbers, the spread between U.S. Treasury yields and their German counterparts crossed 254 basis points this week, the widest level since 1989. A rise in dollar hedging costs is also a factor in the increasing appeal of German debt.
"For non-European investors, because of the rise in hedging costs on the FX side, today if you want to hedge dollars back to Europe you're leaving 2.9 percent on the table," said Andrea Iannelli, investment director at Fidelity International, which manages $324.5 billion. "Bunds for example, after hedging, give you a higher yield than Treasuries and JGBs for Asian investors, so there is the relative attractiveness."