Trump's Auto Tariffs Threat Targets Heart of German Economy
(Bloomberg) -- U.S. President Donald Trump's threat to levy tariffs on imported vehicles aims at the heart of Germany's export-led economy, further straining relations between the two long-standing allies.
While Trump didn't specifically point to Germany when calling for an investigation into protections for the U.S. auto industry on national security grounds, he didn't have to. Past statements have made clear that he resents the country's trade surplus, which amounted to 14.2 billion euros ($16.7 billion) last year for Germany's auto industry. That means any levies on imported autos stands to hit Volkswagen AG, BMW AG and Mercedes-Benz parent Daimler AG especially hard. Shares of all three companies dropped.
"We have to consider this as something of a provocation," said Eric Schweitzer, president of the Association of German Chambers of Commerce and Industry, which estimates that auto tariffs would burden the country's economy to the tune of 6 billion euros a year. "I have the growing impression that the U.S. no longer believes in the competition of ideas, but only the law of power. It fills me with grave concern."
Germany has been a frequent target of Trump's attacks, with the president calling on the country to meet NATO defense-spending targets, complaining about the lack of American cars in Germany and refusing to budge on steel and aluminum duties. The ire stems from trade imbalances and unequal tariffs. The U.S. levies just a 2.5 percent tax on cars imported from Germany and other European Union members, compared with a 10 percent charge on American cars sent to Europe.
"Open up the barriers and get rid of your tariffs and if you don't do that, we're going to tax Mercedes-Benz. We're going to tax BMW," Trump said at a Pennsylvania campaign rally in March.
That talk is now crystallizing into a potential additional tariff as high as 25 percent on autos and auto parts, according to a person familiar with the matter. Trump is keen to show he's protecting American manufacturing workers and in the process is brushing aside investments by German automakers in the U.S., where they employ 36,500 people.
Daimler and BMW shares declined as much as 3.5 percent on Wednesday in Frankfurt, while VW fell as much as 3.2 percent.
"From such tariffs, no country would have more absolute losses to fear than Germany," said Gabriel Felbermayr, director of the center for international economics at the Ifo Institute in Munich, estimating the impact on the country's economy equivalent to 0.2 percentage points of gross domestic product, with Mexico taking a hit of 0.4 points.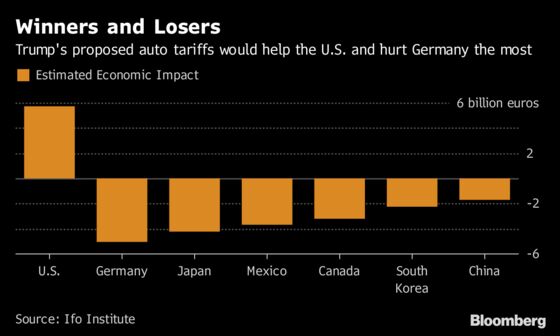 The auto industry is a central economic pillar for Germany. Including component makers Robert Bosch GmbH and Continental AG, the sector employs more than 800,000 people and generated 426 billion euros in revenue last year, according to trade group VDA. That puts pressure on the country's leaders to fight back.
"The European Union and Germany shouldn't be cowed by U.S. announcements," said Stefan Rouenhoff, a lawmaker in Chancellor Angela Merkel's CDU party and a member of the German parliament's economics committee. "What now counts is a unified and decisive stance. It needs to be clear that Europe doesn't negotiate with a gun to its head and doesn't let itself be intimidated."
French carmakers Renault SA and Peugeot maker PSA Group don't play a role in the U.S., while British manufacturers like Aston Martin Lagonda Ltd. and Tata Motors Ltd.'s Jaguar Land Rover unit are upscale and better able to pass on higher taxes. The same goes for Italy's Ferrari NV. Fiat Chrysler Automobiles NV has relatively little trans-Atlantic trade among its brands.
Volkswagen, meanwhile, relies on imports for much of its U.S. sales. That includes the bulk of its American deliveries of Porsche and Audi models, while many of the VW brand cars sold in the U.S. are made in Mexico. The German auto giant operates four plants in Mexico and just one in the U.S.
Mercedes imports upscale models like the S-Class from Germany, but makes the GLE sport utility vehicle as well as the C-Class sedan in Alabama. While BMW exports SUVs, including the X5, from its factory in South Carolina, the carmaker ships popular sedans from Germany and the Munich-based manufacturer's Mini brand imports all of its U.S. sales from Europe.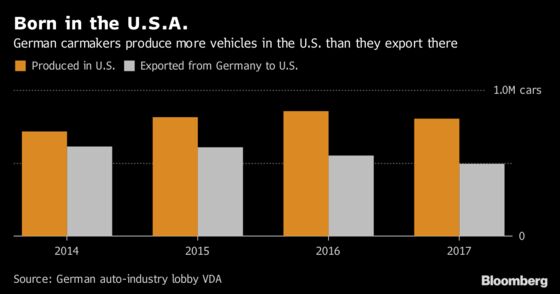 There is a degree of resignation from German automakers given that the EU has thus far been unable to secure a deal to permanently wave steel tariffs. Germany's Economy Ministry, which is still in talks with U.S. counterparts on the steel spat, didn't immediately respond to requests for comment.
"After numerous announcements on the subject by the U.S. president, it was to be expected that an official investigation into increased import duties on vehicles would be conducted," BMW said in an email. "We are closely following further developments." Daimler also said it's keenly following the discussions, declining to elaborate further.