World's Oldest Marketplace Is Awash With Dollars and Anxiety
(Bloomberg) -- Judging by the amount of dollars on offer at Istanbul's Grand Bazaar, it's an ordinary day in Turkey. That changes if you look for the price.
Most of the foreign-exchange bureaus at the world's oldest covered market turned off their electric signboards on Wednesday, removing the live displays for the quotes of the greenback in liras -- an oddity never seen in recent history, the bazaar's employees say.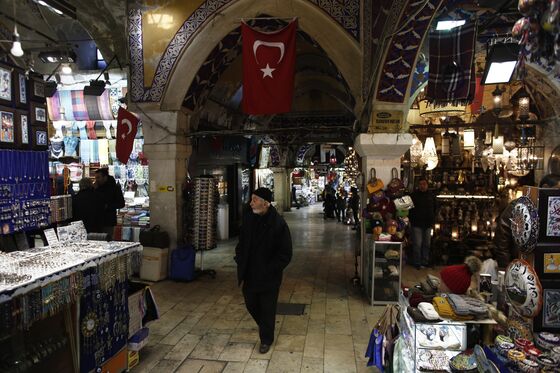 That's because no trader wants to commit to a sale at the price displayed. From the time customers see a figure to the time they walk in, the lira will have moved, making the transaction impossible, according to Emre, the owner an FX office at the heart of the bazaar. The spread between quotations is also higher than usual, sometimes as much as 10-fold wider, he said.
"We have to give clients whatever we put on the electric board," the 43-year-old said, declining to give his name for fear of repercussions in an environment where negative commentary on the economy can be seen as tantamount to treason. "But we can't do it with such high volatility."
The anxiety that runs across the bazaar's 600-year-old alleyways is a reflection of the turmoil being caused by the meltdown in the lira, which lost a quarter of its value in three months. Many of the quarter of a million people who visit the shops and exchange bureaus each day are becoming poorer from minute to minute.
When Economy Minister Nihat Zeybekci appeared on television to say that Turkey's institutions would act at the appropriate time, 32-year-old FX trader Ercan was watching in disbelief.
"What is he talking about?!" Ercan exclaimed. "Turkey has seen difficult days like this in the past, but the central bank used to inject confidence into the market in those days." Now, he said he feared it might be too late.
With the central bank sitting on the sidelines and watching the rout -- amid intense pressure from President Recep Tayyip Erdogan not to raise interest rates before a June 24 election -- the lira's problems are only getting deeper. Commerzbank warned Tuesday that the currency could weaken to as low as 6 per dollar by the bank's next scheduled meeting on June 7 -- or about 25 percent below where it was trading when the report came out. That's unless an emergency hike is announced, it said.
Kemal, a 52-year-old employee of another exchange office, said he worried even that might be futile.
"Nothing will happen even if the central bank takes action," he said. His despair was common among traders in exchange bureaus nearby. "They did intervene previously. Did it work?"