What Market Players Are Saying About the Turkish Lira's Freefall
(Bloomberg) -- Turkish markets are under siege as traders pounce on a currency open to attack by a paralyzed central bank.
The lira has fallen off a cliff since President Recep Tayyip Erdogan said he would take more control of monetary policy if he wins the June 24 election. Without urgent redress from Governor Murat Cetinkaya, a full-blown currency and economic crisis looms, according to investors and strategists.
Below is a selection of views on the snowballing selloff:
Capitulum Asset Management
"Higher rates will maybe cost them 10 percent of the GDP growth but a crisis kills 100 percent of the growth and can even lead to a recession. I would always opt for a small dose of bitter medicine compared to full crisis/sickness," Lutz Roehmeyer, chief investment officer in Berlin, says in interview.
Says election next month gives administration big incentive to stem lira rout
"I think the CBT's hands are tied after Erdogan's statements," says Gregory Saichin, chief investment officer for emerging-market bonds, who helps manage $3 billion and is underweight Turkish bonds.
"Even if the CBT would remain totally independent, its inaction to clamp down on inflation expectations now will carry a higher cost in the magnitude of the tightening it will need to impose to rein in expectations at a later stage."
"In a crisis situation, USD/TRY is likely to overshoot and then 5.30-5.50 is conceivable," says Per Hammarlund, chief emerging-market strategist in Stockholm.
"I still believe that the CBRT will take additional action, but we cannot say when they will do so; if they will be forced to call an emergency meeting, or if they will act at the next scheduled meeting on June 7."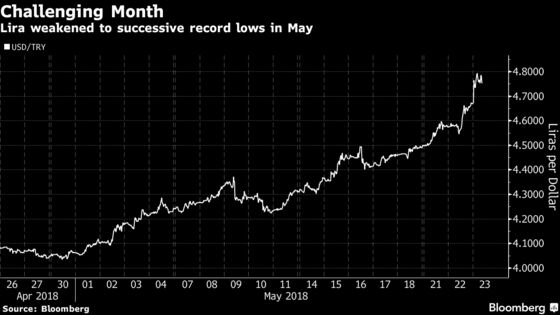 "When retail investors capitulate - as it's been the case overnight when Japanese margin traders decided to cut their mounting losses on their long lira positions against the yen - one could argue that it is a contrarian signal that perhaps the worst is over," says Piotr Matys, an emerging-market currency strategist in London, in an interview.
Shift in market sentiment suggests a 400 basis point hike is needed to restore monetary confidence.
"Even that may not be enough if Governor Cetinkaya is not fully supported in his attempts to stabilise the currency by prominent Turkish officials."
Cristian Maggio, head of emerging-market strategy, says in an interview that a shock-and-awe tightening strategy is needed amid a 'total loss of confidence'
"200 basis points immediately to be safe, 100 basis points and they're going to test the market patience; less than 100 basis points and the market will punish them, I think."
Jason Tuvey, emerging-markets economist, dismisses rumors of capital controls.
"That seems unlikely in light of the country's large current account deficit – which stands at 6.5% of GDP – and thus heavy dependence on foreign capital inflows," he writes in a note.
"If policymakers refrain from tightening monetary policy, the risk of a disorderly adjustment and a sharp economic downturn (possibly recession) will mount."