Time to Buy Emerging Debt, From Argentina to Russia, UBS Says
(Bloomberg) -- Is it time to jump back into emerging-markets bonds? UBS Group AG thinks so.
Strategists at the Swiss bank said they would use the recent sell-off to buy sovereign debt from Indonesia, Argentina, Russia and Nigeria, in a note Tuesday. They also prefer emerging-market corporate bonds relative to their developed-market equivalents, despite the pair's growth cycles moving in different directions, according to the report.
"EM's growth may be coming under question, but its stock variables, such as short term debt owed to foreigners, are in reasonable shape," the strategists including Bhanu Baweja wrote. "Turkey and Argentina are exceptions in this regard, but here too, either the price has moved (Turkey) or the policy reality has changed (Argentina)."
After emerging-market currencies and government bonds sold off in recent weeks in a rout spurred by rising U.S. Treasury yields and a stronger dollar, some investors have been looking for bargains. Brandywine Global Investment Management said developing markets offer attractive real yields alongside good fundamentals and BlackRock Inc. said the rout was an opportunity to buy U.S. dollar corporate bonds by issuers in the Asia-Pacific region.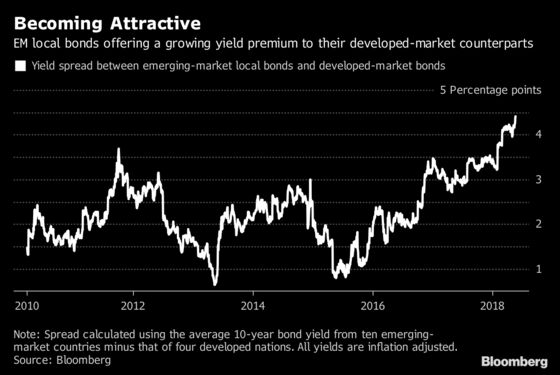 The month-long slide in emerging-market government debt has widened the yield spread they offer over their developed-market counterparts, data compiled by Bloomberg show.
Here are a selection of other investment views from the UBS strategists:
In the corporate space, likes China investment grade, particularly BBB state-owned enterprises; Indonesia commodity plays and the better-quality China property companies.
Prefers investment grade over high yield in emerging markets, similar to the U.S.
Sees better credit fundamentals in Europe than the U.S. Likes E.U. credit spreads over U.S. spreads, though they could widen in high-yield markets in both.
Doesn't believe Italy's political predicament will cause systemic risk that will implicate other euro-zone markets. Still, given the uncertainties, UBS is shifting its preference for euro high-yield versus investment grade to neutral and would underweight Italian investment-grade corporates and high-yield financials.
U.S. high-yield valuations look rich for the stage of the cycle and growth momentum. Prefers B over BB- rated bonds to reduce duration volatility and favors leveraged loans over bonds.