Target Needs to Block Out Wall Street's Noise
(Bloomberg Opinion) -- The reaction to Target Corp.'s first-quarter earnings report on Wednesday is a near-perfect illustration of the enormous challenge many traditional retailers are up against in trying to satisfy Wall Street right now.
By many measures, Target had a quite good quarter. Its comparable sales rose 3 percent over the same period last year, beating analysts' expectations. That lift was powered by an impressive 3.7 percent increase in traffic, which the company says was its best quarterly performance by this measure in more than a decade. The Minneapolis-based retailer also saw a respectable 28 percent year-over-year increase in online sales. And in another good sign, Target was able to deliver healthy growth in its food and beverage division this quarter, as that has sometimes been a trouble spot.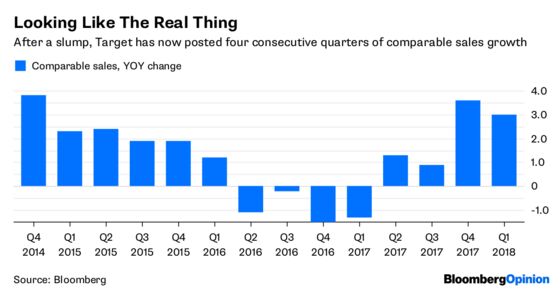 But investors are overlooking all those signs of improvement. Target shares were down more than 6 percent in early trading, as investors apparently got skittish about a year-over-year decrease in its gross margin and adjusted earnings per share that didn't meet their estimates.
This dynamic shows what hard choices old-school retailers face as they try to adapt for the digital era. If brick-and-mortar-based players don't invest heavily in e-commerce, they are bound to be left in Amazon.com Inc.'s dust. But when they do spend money to gird themselves for a digital future and it weighs on near-term profitability, they get punished for it.
Target is hardly alone in being stuck in this paradox. Walmart Inc. saw its stock tumble earlier this year when it reported fourth-quarter earnings that showed its e-commerce sales growth had slowed significantly, making investors question its digital prowess. But even when Walmart showed somewhat of a rebound in digital sales in its first quarter, investors sent shares down again on the day of that report, seemingly because they were worried about a decline in operating income that was partly driven by plowing money into shoring up its online business.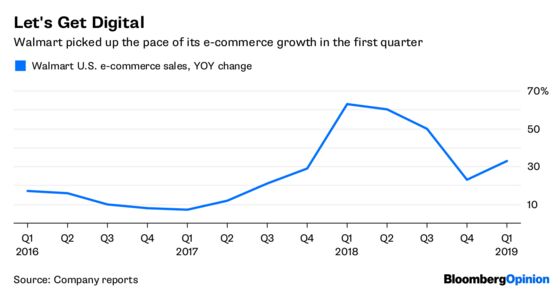 Target executives shouldn't let Wednesday's sell-off make them question their plans for steering the company into the future. The narrower gross margin partly reflected higher fulfillment costs, but that's not such a bad thing since it is an effect of growth in its e-commerce business.
Its sales, general and administrative expense rate was up in the quarter over last year, but I also don't find that especially troubling. Target's press release said this was driven by the company's move to raise wages for many of its employees, and as I argued earlier, this was certainly the right thing to do. Target needs to compete effectively for talent in a tight labor market, and brick-and-mortar retailers need robust customer service more than ever to give people a reason to come to stores.
Beyond that, Target is taking many sensible steps to lure more shoppers to its stores and website over the long haul. It is remodeling hundreds of locations and has rolled out same-day delivery from more than 700 stores. It's also developing new private brands, a way to make it stand out from the pack.
At this point in retail's massive transformation, Wall Street is very hard to please. Target should block out that noise and press on with its efforts to remake itself.