Spain Works on a Plan for Regions to Return to Bond Market
(Bloomberg) -- The Spanish Budget Ministry is working on a plan to reorganize the debt of the country's regional governments to help them sell bonds in the public markets again after a six-year absence.
Officials are proposing to modify interest rates and extend the duration on regional government bonds held by the central government, according to a draft plan seen by Bloomberg. The state holds most outstanding regional government debt after setting up a rescue fund to keep the regions operating during the financial crisis. Any other investors holding the debt will be unaffected, the plan said.
A Budget Ministry spokeswoman declined to comment.
The government's aim is to get regions into shape so they can tap markets for funding instead of relying on the state. A panel of economists appointed to represent the regions and other officials agreed that they should target an "orderly" return to the market and reduce their reliance on a central government funding mechanism set up during the financial crisis, according to the plan, which was sent out to regional finance chiefs.
The Bank of Spain has been leading the calls for regions to sell bonds again.
Spain's regions were shut out of the market in 2012 as the collapse of the real estate market forced Prime Minister Mariano Rajoy to seek a bailout from the European Union to rescue the banking system. Since then the Madrid region, Navarre and the Basque country have tapped markets for small amounts, while the country's other 14 regions have remained hooked up to the central government.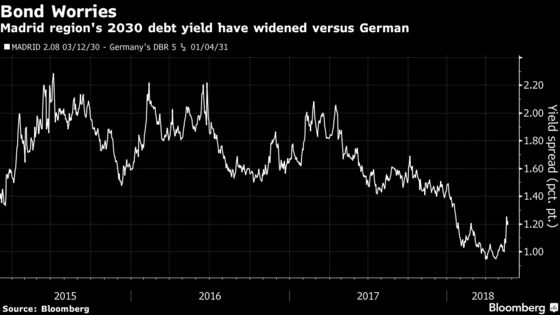 The national bailout fund for regions has provided about 250 billion euros ($294 billion) of loans and financial aid for the past six years, when it came to the rescue of regional administrations. Since then, a growing number of voices have called for an orderly return.
On Monday, Susana Diaz, the regional president of Andalusia, said she had informed the governor of the Bank of Spain, Luis Maria Linde, about her region's intentions to make a prompt return to capital markets. She argued the region had undergone a cleanup and should gain greater financial autonomy from the central government.
With Spain's economic recovery stretching into a fifth year, regional administrations are on a stronger footing to operate on their own, according to an April report by BBVA. The bank forecast a gradual return to markets starting as early as this year.
Separately, regions are also calling to speed up a regional financing reform that's still pending. A group of experts will meet either late May or early June to explore this further, according to the central government.