Woes of South African Cities' Finances Laid Bare in Charts
(Bloomberg) -- Irregular spending by South Africa's municipalities surged 75 percent to a record 28.4 billion rand ($2.2 billion) in the 2017 fiscal year as accountability "continues to fail in local government," the Auditor-General said.
The bulk of the increase in the year that ended in March 2017 came from amounts detected in previous periods, Auditor-General Kimi Makwetu said in Cape Town Wednesday.
The following chart show how dire the state of the country's councils are.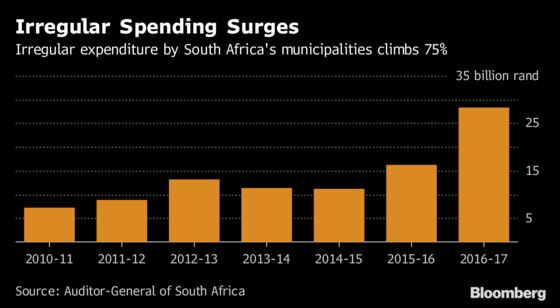 "There has been no significant, positive change towards credible results; instead, we are witnessing a reversal in audit outcomes," Makwetu said in a separate statement. Audit counsel in the previous year has largely not been implemented, at best, or totally ignored, at worst, as the audit outcomes reflect the state of governance he had painstakingly cautioned against, he said.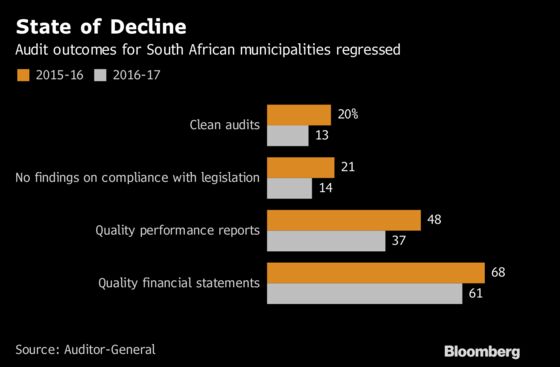 The audit outcomes of 45 municipalities regressed while only 16 improved, the Auditor-General said. Not only did the unqualified opinions on the financial statements decrease to 61 percent from 68 percent, but the financial statements provided to for auditing "were even worse than in the previous year," with only 22 percent of councils able to provide statements "without material misstatements," it said.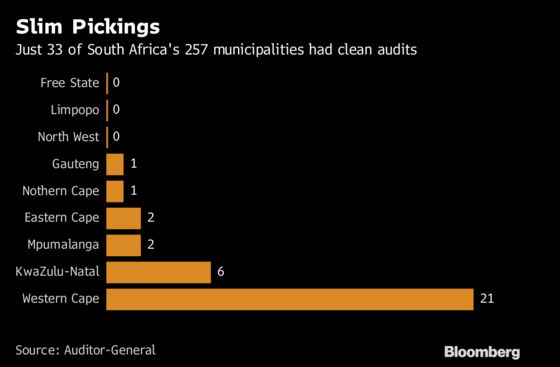 Of the 257 municipalities reviewed, only 33 received a clean audit. No municipality in the Free State, Limpopo and North West provinces received clean audits. Material non-compliance with key legislation was evident in 86 percent of the councils, the highest percentage since 2012-13.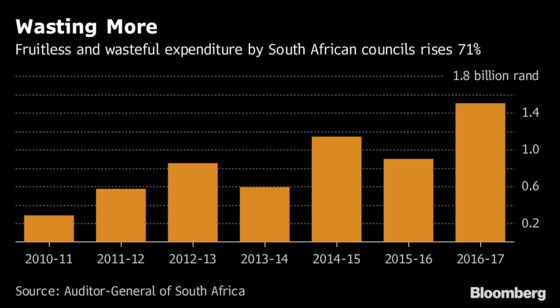 Fruitless and wasteful expenditure has almost tripled since 2013-14 to 1.5 billion rand. In one instance, a municipality incurred 164 million rand of this spending on a water project that had to be redone from the start by the Department of Water Affairs because of substandard work, the Auditor-General said.
Some South African cities are "on the brink of collapse" and need to be pulled back from the cusp of financial ruin, Finance Minister Nhlanhla Nene said in April. Slow economic growth and years of mismanagement at some state companies and municipalities have weighed on government revenue and stretched the nation's finances. Delinquent cities owe utility companies such as power provider Eskom Holdings SOC Ltd. billions of rand, worsening their ability to deliver services.
Here are some other highlights from the Auditor-General's report:
The audit environment in which teams had to work "became more hostile, with increased contestation of audit findings and pushbacks whereby their audit processes and motives were questioned."
In total, 87 percent of municipalities exceeded the 30-day payment period to their creditors, with the average being 161 days;
Inability to collect money from municipal consumers was widespread and 92 percent of the councils said they need to write off more than 10 percent of their debt
About 43 percent of councils had more liabilities than assets, which means they won't be able to pay creditors
Factors including poor revenue and budget management led to 31 percent of the municipalities disclosing that they may not be able to continue operating