Seeing Green: Wide Divergence in Wage Growth Across U.S.
(Bloomberg) -- Using Bureau of Labor Statistics data for December 2003 and December 2017, Bloomberg calculated the rate of change in average weekly incomes and found a significant divergence in growth across the U.S.
Connecticut, Nevada, Michigan, the Virgin Islands, Delaware and Puerto Rico lagged with incomes growing by less that a third, while the birth of modern day fracking and its spillover effects pushed North and South Dakota onto the top of the list.
Putting the statistics into perspective, in North Dakota the average weekly wage advanced 79.4 percent over the 15 year-period while in Puerto Rico average weekly wages eked out a 26.7 percent gain.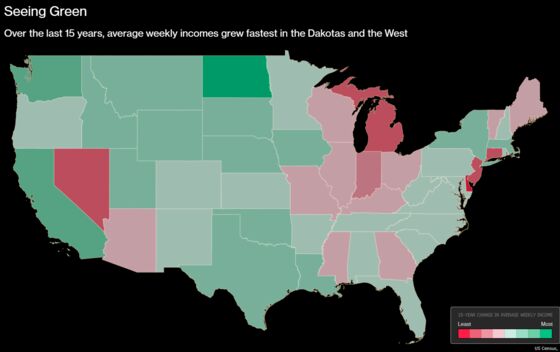 Some neighboring states registered a wide divergence. New Jersey ranked 45th versus New York at No. 9. Massachusetts ranked No. 13 and Connecticut at No. 46. Even though wage growth lagged in New Jersey and Connecticut, the two states have the fourth and fifth highest average weekly incomes. New York is at the top.