Qatari Bank Closes Gap on Abu Dhabi Rival in Mideast Shuffle
(Bloomberg) -- Qatar National Bank QPSC is no longer being punished for a boycott imposed on the country by some of its neighbors as this month's MSCI Inc. weighting change draws passive inflows to the stock.
A 36 percent rally spurred by the decision to raise the foreign ownership limit in March means QNB now trades at a similar valuation to First Abu Dhabi Bank PJSC for the first time in more than a year. FAB had become one of the shares of choice in the United Arab Emirates after a deal that created the country's biggest lender last year.
The estimated price-to-earnings ratio for the Emirati bank has slipped to 10.3, matching the level for QNB, the dominant stock in Qatar's benchmark index.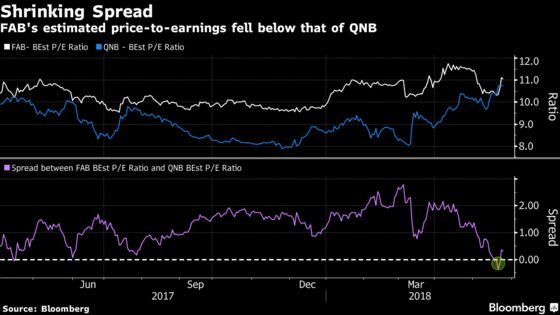 QNB and FAB are "the two biggest single-security index trades" for 2018 in the Middle East and North Africa, according to Mohamad Al Hajj, an equities strategist at the research arm of EFG-Hermes Holding in Dubai.
The Qatari lender could attract inflows of $651 million after the index re-balancing, which was triggered by the bank increasing the maximum foreigners can hold to 49 percent, he estimates. FAB could draw more than $300 million in passive flows after a review of its weighting in the same index, expected to be announced in November, he said.
The Abu-Dhabi based bank is the result of the merger of First Gulf Bank PJSC and National Bank of Abu Dhabi PJSC, which at completion had created a financial giant with $180 billion in assets under management.
The Emirati lender remains an interesting play following the stock's recent dip, especially considering the "value that will be generated by the merger," said Ali El Adou, the head of asset management at Daman Investments in Dubai.
FAB fell 0.4 percent as of 10:36 a.m. in Abu Dhabi, after climbing 7.9 percent in the previous three sessions, while QNB was little changed in Doha. They have a market valuation of $36 billion and $40 billion, respectively.