Opposition's Livni Defends Israel Army Response to Gaza Violence
(Bloomberg) -- Israeli opposition lawmaker Tzipi Livni defended her country's military against allegations it used excessive force against violence at a Palestinian protest last week, saying any suspected cases of wrongdoing would be investigated.
Israeli forces responded properly to attacks on the military and Israel's border, Livni, co-leader of the Zionist Union, said on Wednesday, pushing back against international criticism. Forces tried to use non-lethal riot control methods, and snipers had to receive permission from high-ranking officers before firing, she said at a briefing for foreign journalists in Jerusalem.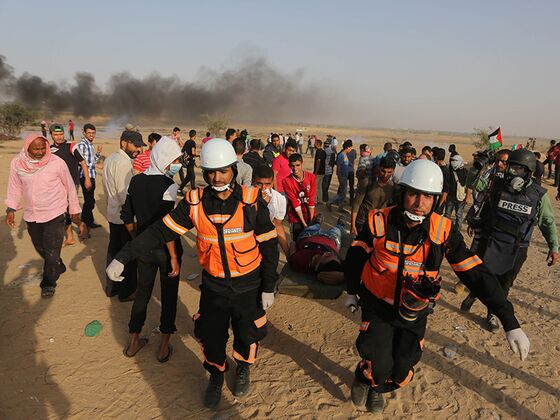 "We knew in advance what Hamas wants to see is dead people on the border," said Livni, a member of parliament's foreign affairs and defense committee and a former peace negotiator. "We tried to avoid it. It's an almost impossible situation for the Israeli army."
European officials and the United Nations have alleged that Israel didn't do enough to contain the toll at a mass protest on May 14 where more than 60 people were killed. The military said militants in Hamas-ruled Gaza used the demonstration as cover to open fire on troops, throw firebombs and lay explosives.
The United Nations Human Rights Council has called for an investigation, while the Palestinian Authority is seeking recourse from the International Criminal Court. Israel opposes both measures.
In all, Israeli troops have killed 113 Gazans since a campaign of protests against Israel began in the territory on March 30, according to Gaza health officials.
Hamas has said the demonstrations will continue through early next month, when Palestinians mourn Israel's 1967 capture of territories they claim for a future state. The protests are meant to draw attention to the Palestinians' claim to return to ancestral homes lost in the fighting surrounding Israel's 1948 creation.