GE Sinks Most Since 2009 as CEO Can't Ease Power, Dividend Fears
(Bloomberg) -- General Electric Co.'s long-suffering investors are losing what little patience they had left.
The shares plunged the most since 2009 as Chief Executive Officer John Flannery's high-profile appeal to Wall Street indicated there is no "quick fix" to the problems bedeviling the company, from weak cash flow to slow demand for gas turbines. Worse still, he offered scant reassurance for shareholders worried about another dividend cut.
The latest stock swoon piled pressure on Flannery as he attempts to chart a path out of one of the deepest slumps in GE's 126-year history. The Boston-based company has languished at the bottom of the Dow Jones Industrial Average since he took the job last year.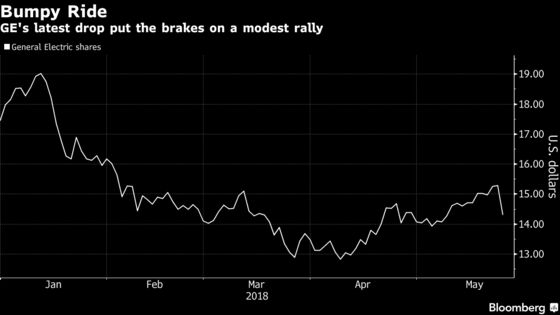 Now investors are increasingly worried about the hurdles in the power market, which will "mean a slower trajectory to the rebound," said Nicholas Heymann, an analyst with William Blair & Co.
The shares fell 7.3 percent to $14.18 at the close in New York, the biggest drop since 2009, exceeding even the November slump when GE cut its dividend. Wednesday's decline wiped out most of the gain from a modest rally this month.
The market for GE's signature gas turbines will remain "soft" for several years, weighing on the company's largest business unit, Flannery said at the Electrical Products Group conference in Longboat Key, Florida. Profit in the division will be flat this year.
While GE's jet-engine and health-care divisions remain strong, the company is trying to manage challenges in its insurance operations and fix the troubled power-services business.
"This is not going to be a quick fix," said Flannery, who was named to succeed Jeffrey Immelt in June.
An analyst commented on the plunging stock during the question-and-answer portion of Flannery's presentation, saying that investors appear unhappy with the pace of GE's turnaround plan.
"I get that people want faster," the CEO said, but he insisted he intends to move in "a very deliberate way and thoughtful way."
Flannery has already overhauled the board and cut costs. He said the power unit is restructuring aggressively and should exceed this year's target of $1 billion in expense reductions.
He has also executed several portfolio changes. This week GE announced an $11.1 billion deal to merge its century-old locomotive unit with Wabtec Corp. He has previously said he's weighing all options for GE, including a breakup.
The company's shrinking footprint and its cash challenges have fueled doubts about the sustainability of the dividend. Flannery cut the payout late last year to save cash.
Bloomberg forecasters this week trimmed the outlook for GE's dividend, and JPMorgan Chase & Co. analyst Steve Tusa said in a note Tuesday that it's hard to see how the company "cannot be seriously considering" it.
Flannery didn't commit to any particular dividend plan, saying the payout will depend on cash performance and be at least partially a "function of what happens with the portfolio."
The refusal to back the dividend contributed to the stock drop, Stifel analyst Robert McCarthy said in a note. He also pointed to the power market, which "remains a problem, with no signs of a near-term turn."
GE continues to deal with issues in its insurance business. The company in January announced a massive charge and said it would set aside $15 billion to cover potential losses on old long-term care policies. Flannery said he wants to shrink assets across GE Capital while managing the insurance portfolio "as aggressively as we can to reduce the raw liability."
The CEO would also be open to a deal that takes the burden off his hands. While he didn't offer specific options, if the right opportunity came along, Flannery said he'd be "highly motivated to do it."