Emerging-Market Rout Has Traders Caught In a Grim Feedback Loop
(Bloomberg) -- A feedback loop is taking hold across financial markets as the emerging-market selloff intensifies, helping to support the greenback and giving Treasury bears more ammo.
It goes like this: A rebounding dollar this year has likely spurred central banks in developing nations to pare Treasury holdings and use the cash to prop up local currencies. Those Treasury sales are helping to send yields higher, making U.S. investments more attractive, and supporting the dollar, which leads back to more bond sales by central banks.
The end result is a market ringing with soft echoes of the tumult in the second half of 2016 that sent emerging-market assets tumbling and temporarily halted the bull market in U.S. stocks.
The Federal Reserve's holdings of U.S. government debt securities, a proxy gauge of overseas central banks' stakes in Treasuries, are tumbling by the most since China's battle to stabilize the yuan in 2016.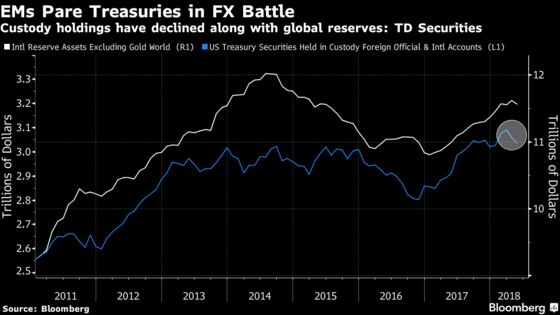 To strategists at TD Securities, that's a sign emerging markets have their fingerprints all over the jump in 10-year U.S. Treasury yields to levels firmly above 3 percent.
"If the USD continued to strengthen, it could result in continued selling of Treasuries from EM central banks as well as EM investors," strategists including Priya Misra wrote in a recent note. Still, she pointed out that the dynamic may ultimately be self-stabilizing as violent market selloffs spur rallies in U.S. bonds.
"This would tighten financial conditions and ultimately bring a bid back to Treasuries," she wrote, "similar to the China selling and USD strength episode in 2015 and 2016."
The selloff in emerging-market currencies -- including the Turkish lira's freefall this week -- in concert with haven demand for the yen evokes memories of the tightening in international financial conditions in 2016, according to Ben Emons, the chief economist at Intellectus Partners LLC. Further weakness in developing-economy assets would create more ripples across global interest-rate markets, he wrote in a note.
"The dollar strengthens and that causes contagion in other emerging markets where dollar debt has grown substantially," he wrote. If yen strength continues, "Japanese investors become cautious and buy Treasuries (and Bunds)."