Before the May Getaway, Some Once-Hot Stocks Could Be in Play
(Bloomberg) -- The summer holidays are almost upon us, meaning it's that time of year when people traditionally "sell in May and go away."
So before they pack up and hit the beach, investors could be looking to unload stocks that set the pace in 2018 before losing momentum.
Such once-meteoric performers -- all of them Asian companies -- now trading near or below their 50-day moving average include Creative Technology Ltd., Golden Bria Holdings Inc., Inscobee Inc. and Feelux Co., according to data compiled by Bloomberg on active stocks worldwide.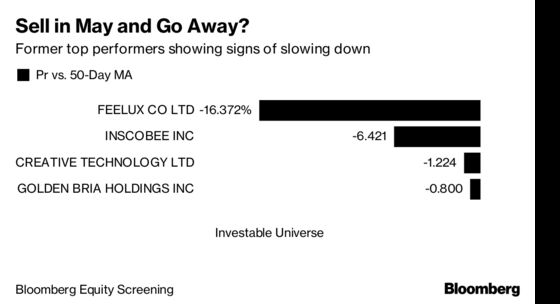 While Sanroc International Holdings Ltd., the Hong Kong-based construction machinery trading company, has logged a 1,600 percent rise in 2018 and is still climbing, these other high-octane stocks haven't shown the same stamina:
Golden Bria, a Philippines-based cemetery developer, has had the second-highest return in 2018, gaining 1,300 percent, but it leveled off at the end of February. And while it outpaces more than 2,700 other real estate stocks globally, it's now trading just below its 50-day moving average.
Creative Technology, the Singapore-listed company once hailed as the world's second-largest maker of digital music players, surged more than 400 percent, but its shares have declined about 35 percent from their peak in early March.
South Korea's Feelux and Inscobee have both turned a corner in recent weeks. Feelux, a maker of electronic components, dropped 45 percent after gaining more than 800 percent through mid-April. Watchmaker Inscobee climbed more than 500 percent before it, too, swooned last month, retreating 35 percent.