`Goldilost' Grips Markets as Turkey to Italy Expose Fractures
(Bloomberg) -- If the world's financial markets were vulnerable going into this week, they look a whole lot worse with an extra handful of risks thrown onto the fire.
Political turmoil from Turkey to Italy is adding to the burden investors face as they grapple with the end of easy money conditions. A selloff in emerging markets is being exacerbated by the risk of contagion from Turkey's currency crisis, European credit markets are feeling the strain caused by Italy's incoming populist government, and North Korea tensions are again wreaking havoc in stock markets.
"Goldilocks is turning to Goldilost," said Greg Venizelos, a senior credit strategist in London at AXA Investment Managers, which manages 746 billion euros ($874 billion). "Looking back at the beginning of the year, the market was certainly very complacent. Now it's on the lookout for trouble spots."
As the Turkish lira's selloff picks up steam, the currency's demise is beginning to seep into sentiment toward other emerging markets. That's a problem because developing nations are already on shaky ground due to the dollar's month-long surge and a pick-up in global borrowing costs. Countries that, like Turkey, have persistent current account deficits will come under most pressure, James Bevan, chief investment officer at CCLA Investment Management, told Bloomberg TV's Francine Lacqua on Wednesday.
"EM-specific stories like Turkey can serve a psychological trigger for investors to reduce risk more broadly," said Venizelos. "Like birds in a tree, they fly off on any rustle."
European investors got a double-whammy of bad news this week as concern over Italy's spending plans collided with data showing economic momentum in the euro area cooled yet again in May. It doesn't help that the dollar has resumed its upward trajectory after a two-day break from gains. The result was a plunge in the common currency to the lowest level since November versus its U.S. counterpart, with neighbors from Sweden's krona to Poland's zloty sliding in sympathy. German bonds surged, sending five-year yields to the lowest since January, while government debt from Italy and Portugal sank.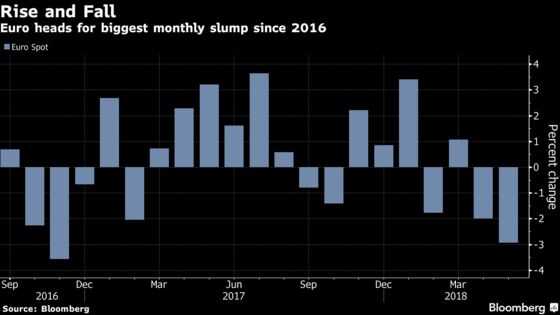 Gauges of credit risk soared to 2018 highs, with banks bearing the brunt of moves, as investors worried about spillover from Italy. With the incoming government not only challenging European Union rules but also calling for a review of Monte Paschi's bailout, the situation poses a systemic threat and banks, in particular, are in the crossfire, according to Venizelos at AXA.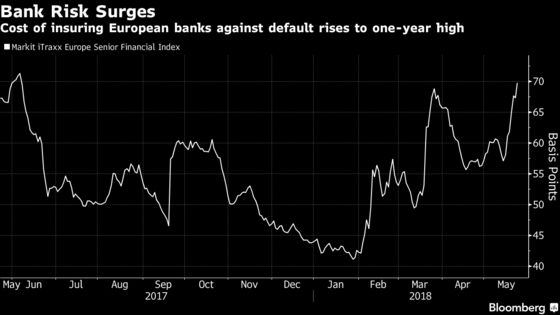 Stocks in Europe and Asia fell as investors swapped relief at easing Sino-U.S. relations for renewed concern about North Korea. During his Oval Office meeting with South Korea President Moon Jae-in Tuesday, President Donald Trump cast doubt on a possible summit with North Korea's Kim Jong Un, sending U.S. shares lower. Earlier in the day, stocks had rallied following signs that China's trade tensions with the Trump administration were easing.