Thailand Growth Surges to Five-Year High as Exports Climb
(Bloomberg) -- Thailand's economic growth surged to a five-year high last quarter, beating all economists' estimates as rebounding farm output added to gains from exports and private consumption.
Key Points
Gross domestic product rose 4.8 percent from a year ago, the National Economic and Social Development Board said on Monday. That is the fastest pace since 2013
The median estimate of 18 economists in a Bloomberg survey was 4 percent 
GDP rose a seasonally adjusted 2 percent compared with the previous three months, higher than the 1.2 percent median estimate
Four years after the military seized power, Thailand's economy is rebounding with growth sustained by a pick-up in exports and tourism. The central bank last week held its benchmark rate near a record low to help support the economic recovery as businesses are still reluctant to invest.
The statistics agency raised its growth forecast for this year to 4.2 percent to 4.7 percent, from 3.6 percent to 4.6 percent.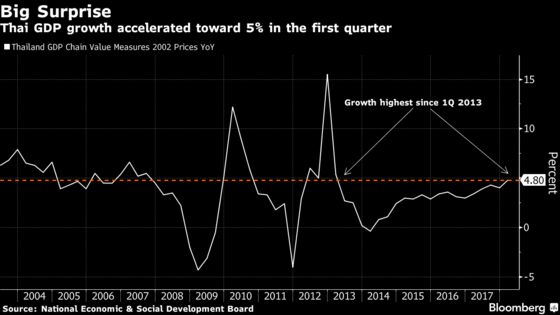 "Higher exports help support the manufacturing sector," Wichayayuth Boonchit, deputy secretary general of the state planning agency, said in a briefing in Bangkok. Private investment is expected to recover this year, he said.
The military government has cut red tape, stepped up efforts to woo foreign-direct investment for industrial modernization and is boosting infrastructure. But big projects have faced some delays and elections expected next year inject uncertainty into the outlook.
Thailand's foreign-reserve buffers and a current-account surplus are helping to shield the nation from volatility as U.S. rates rise. The baht gained 0.1 percent to 32.163 per dollar as of 9:50 am in Bangkok. It earlier touched 32.363, the weakest level since January.
It is among the few emerging-market currencies that has gained against the dollar this year.
Exports rose 6 percent from a year earlier
Private consumption gained 3.6 percent while government spending rose 1.9 percent
The World Bank has said raising Thailand's potential growth to a range of above 4 percent to 5 percent remains a challenge. Boosting education and services are critical to raising productivity as the population rapidly ages, it said.