Lira Extends Slide to Record as Rising Treasury Yield Fuels Rout
(Bloomberg) -- Turkey's lira tumbled, hitting new all-time lows against both the U.S. dollar and the euro, as increasing U.S. Treasury yields deepened a rout in the currency.
The lira led losses in emerging markets to extend last week's slide of around 4 percent. The higher U.S. yields are exacerbating the pressure by reducing the allure of riskier assets, while a lack of action by the Turkish central bank this month is disappointing investors hoping for rate hikes.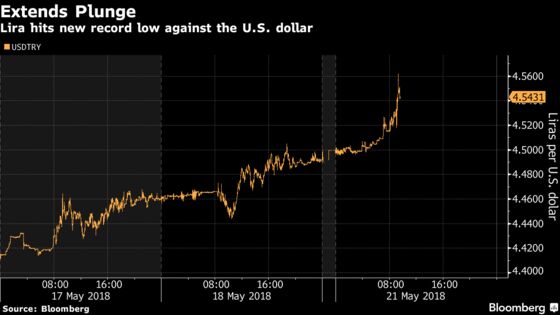 The lira was 1.8 percent lower at 4.5736 per dollar by 2:33 p.m. in Istanbul, after falling to a record low 4.5751. One-month implied volatility on the dollar-lira pair, an indicator of expected swings, surged to 22 percent, extending its climb to the highest level since January 2017. The yield on 10-year government bonds rose 16 basis points to 15.22 percent, a new record.
"We do not want to sound like a broken record, but after the lira plunged to yet another record low it is evident that unless the central bank acts decisively and raises interest rates substantially at an emergency meeting, the sell-off is likely to continue," said Piotr Matys, an emerging-market currency strategist at Rabobank in London.