Ghana Cuts Interest Rate to 4-Year Low as Inflation Slows
(Bloomberg) -- Ghana cut its benchmark interest rate to the lowest in more than four years as the inflation rate fell within the regulator's target band for the first time since 2013.
The Bank of Ghana reduced the rate by 100 basis points to 17 percent, Governor Ernest Addison told reporters Monday in the capital, Accra.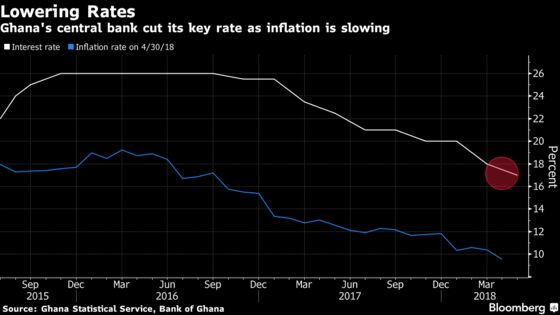 Lower borrowing costs may boost expansion in one of Africa's fastest-growing economies. Inflation at 9.6 percent in April was below the 10 percent upper end of the target band for the first time since January 2013. Ghana's economy expanded 8.5 percent in 2017, the fastest rate in five years, as oil and gas production surged.
"The forecast points to disinflation over the horizon, barring unanticipated shocks," Addison said. Price growth will be closer to the mid-point of the target range of 6 percent to 10 percent by the end of 2018, he said.
The central bank has reduced the rate by 900 basis points since 2016.
What Do Our Economists Say? 
"Average lending rates have dipped about 250 basis points in the past year to 28 percent in April, while the central bank has cut its policy rate by a cumulative 850 basis points since March last year. The 60 basis-point drop in commercial bank lending rates in April was the largest since September last year, indicating that pass-through has improved. This and the high likelihood that inflation is close to bottoming out in coming months makes us believe that the Bank of Ghana is close to the end of its monetary easing.

Mark Bohlund, Bloomberg Economics 
More reductions in the benchmark rate aren't likely, said Yvonne Mhango, an economist at Renaissance Capital in Johannesburg.
"Inflation is bottomed at present levels," she said by phone. "We'll see a moderate pick-up at least by the second half of the year that's the reason I wouldn't expect them to cut further."