Dollar May Drop 5% as Deficits Return to Focus, Fund Says
(Bloomberg) -- The dollar is poised to drop about 5 percent by year-end as the market's focus returns to the worsening U.S. twin deficits and the surge in Treasury yields stalls, according to Brandywine Global Investment Management.
The greenback has become vulnerable to a selloff as its recent rally has stretched valuations, said Richard Lawrence, who helps oversee $76 billion as senior vice president for portfolio management at the Legg Mason Inc. unit in Philadelphia. President Donald Trump's administration is unlikely to stop the currency from weakening, he said.
"The dollar could end the year maybe mid-single digits lower than where it is now,'' Lawrence said in an interview in Singapore on Friday. The U.S. currency is overvalued and "the twin-deficit issue ought to put some pressure on the dollar,'' he said.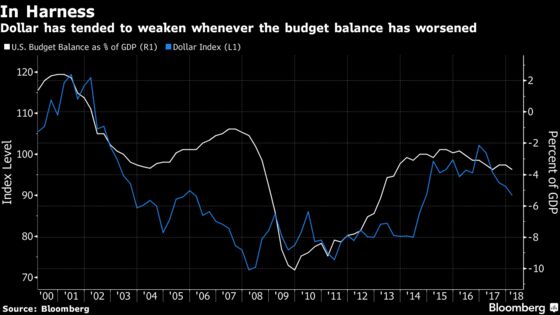 The direction of the dollar and Treasury yields has divided Wall Street, with some hedge funds arguing that an emphasis on the long-term economic trend will overlook an extension of the greenback's recent gains. Others have forecast the currency will weaken as 10-year yields are close to their peak.
The Dollar Index, which tracks the greenback against six major peers, has climbed almost 6 percent from this year's low set in February as Treasury 10-year yields jumped to the highest since July 2011. The currency gauge is forecast to fall 4 percent by year-end, according to the median estimate in a Bloomberg survey.
The U.S. budget deficit swelled to $600 billion in the first half of the fiscal year, the Treasury Department said last month. Tax and spending measures approved by Trump are expected to push the shortfall to $804 billion in fiscal 2018 and then surpass the $1 trillion-mark by 2020. The administration cut the corporate tax rate to 21 percent from 35 percent.
The government may actually welcome a weaker dollar, Lawrence said.
"We have the administration whose policy objectives around the revitalization of the manufacturing base," he said. "I don't think they are going to try and do anything to prevent the dollar from declining because it's in their best interest.''
Hedge funds are betting the dollar will strengthen, according to the latest data from the Commodity Futures Trading Commission. Leveraged funds switched to a net long position in the week ended May 15 for the first time in four months, data released last week showed.
Lawrence said he is underweight Treasuries and 10-year yields are likely to be around current levels at the end of 2018. The yield will climb to 3.19 percent by the end of December, from the current 3.06 percent, a Bloomberg survey shows.
While long-term disinflationary forces, including demographics, globalization and technology, are here to stay, they are being countered by fiscal stimulus, a possible significant widening in budget deficits and growth that "goes gangbusters," he said.
"You've got a battle of some inflationary influences and some disinflationary influences," Lawrence said. "That's what ends up keeping Treasury yields volatile but somewhat range-bound.''