Two Million Hens Are Sweating It Out for Travel Passes in Hubei
(Bloomberg) -- At the epicenter of the coronavirus outbreak that has claimed thousands of lives and stunned the Chinese economy, millions of maturing laying hens are awaiting the green light to relocate to egg farms.
Banning transport of live poultry in Wuhan and nearby cities is blocking at least 2 million layers from being delivered to egg farms within Hubei province, according to Wang Zhiqiang, a breeder in the city of Xiangyang. Keeping them in the henneries increases the risk of bird flu and reduces egg output, he said.
"Hen houses are getting crowded as the number and size of laying hens are growing," Wang said in a telephone interview Monday. His breeding base, known as a "youth farm" to cradle chicks, has 450,000 hens that are an average age of 80 days, ready to be moved to professional farms for egg production.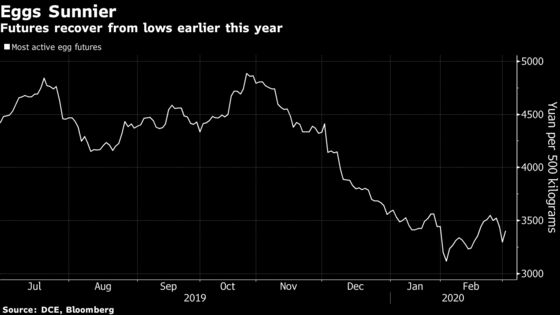 The potential shortage of eggs is supporting futures on the Dalian Commodity Exchange, where prices have risen almost 10% in the past month. Farmers were earlier facing problems finding feed for their chickens after Hubei province was placed on lockdown due to the virus. Meanwhile, people across China have been eating out less, which has reduced demand for animal protein.
The poultry "youth farms" around Wuhan are seeking government approval to ship maturing layers to egg farms, said Wu Zhimin, a manager at the local poultry association of Hubei province. Local chicken farms are also challenged by a lack of vaccines, though feed supplies are no longer a concern, he said.
Commercial hens usually begin laying eggs at 120 to 150 days of age, and are then slaughtered after about 12 months of egg production, Wang said. Traffic controls in Wuhan, where the first coronavirus case was found, and in some neighboring regions remain tight, he said.
Logistic bottlenecks because of transport curbs and labor shortages are expected to cut egg supplies this year as fresh eggs can be kept for only 10-15 days in normal winter temperatures, according to Alice Xuan, an analyst with Shanghai JC Intelligence Co. The agriculture consultancy estimates China's egg production at 30.2 million tons for this year. Hubei produces 120 million eggs a day, of which about half are supplied to other parts of China.