Flooding in Western Japan Leaves 11 Dead
(Bloomberg) -- At least 27 people have died and thousands fled their homes because of flooding in western Japan, with Mazda Motor Corp. in Hiroshima halting production at the weekend.
Local television showed overflowing rivers, submerged vehicles and homes crushed under landslides in what's being described as "historic rainfall" this week. National broadcaster NHK reported 47 were missing. More than 48,000 police, rescuers and military staff have been mobilized to help with emergency efforts, Chief Cabinet Secretary Yoshihide Suga said.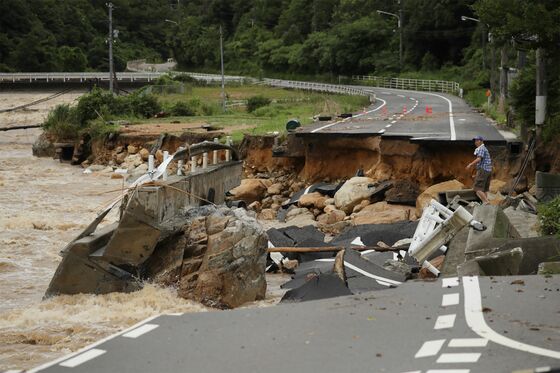 Heavy rain also blanketed Osaka, which was hit by a strong earthquake last month that killed three people, halting factories and train lines. While the economic impact of the storm appears to be limited, it's likely to disrupt manufacturing and retail operation over the coming days.
A representative for Mazda said weekend shifts were canceled. Daihatsu, a unit of Toyota Motor Corp., and Nissan Motor Co. also halted weekend and evening shifts at some factories, local media reported.