Treasury Yield Flirts With 3%, But It's No Commitment
(Bloomberg Opinion) -- The yield on 10-year U.S. Treasuries is once again flirting with 3 percent. It already failed once this year to sustainably break through that level. Don't expect this time to be different.
It last reached that threshold on June 13 after breaking through in late April for the first time since January 2014. This latest bout of selling appears to be driven by jitters over the Bank of Japan's policy decision on Tuesday. The speculation is that the BOJ could permit yields to fluctuate more around its zero percent target, explaining why the 10-year Japanese yield is 0.1 percent — a nearly 18-month high. Speculators in the $15 trillion Treasury market are certainly pouncing on this trend, with their net short position in 10-year note futures increasing to a record in the week through July 24.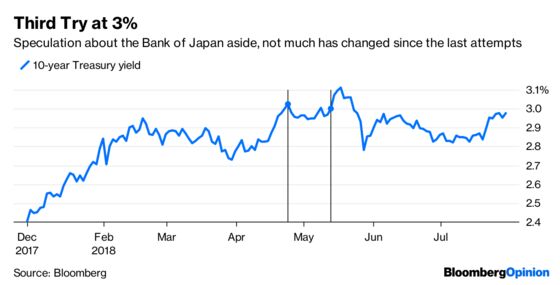 A look across the global bond markets, however, reveals few pillars for bond bears to count on to make this crack at 3 percent more permanent.
For starters, speculators' positioning is often viewed as a contrarian indicator — meaning when they're all expecting yields to move higher, rates fall instead. Part of that is because when the market bumps up against levels labeled as important — either psychologically or based on technical analysis — those types of traders use the opportunity to take profits and close their bets. 
Indeed, those speculators set a record short in 10-year futures as of April 24, the same day the yield first breached 3 percent. It wound up closing above that level only once in the ensuing two weeks, causing some to reduce their short wagers. The group looks potentially even more offside today.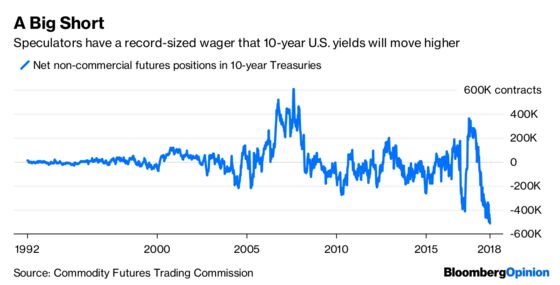 On a more fundamental level, one lesson from watching Treasuries this year is that synchronized central bank tightening is needed to push U.S. yields higher. That explains why the lead-in to the BOJ's decision is causing so much angst.
But traders already know that the European Central Bank is committed to keeping interest rates low for at least another year. And because of that, even amid the latest sell-off, 10-year German yields are still well below where they were at the end of April, when 10-year Treasuries breached 3 percent. That means the U.S.-Germany yield spread remains skewed in favor of Treasuries. U.K. gilts, which led Monday's bond-market decline, are also yielding less than they were three months ago.
Even on a currency-hedged basis, the Treasury market looks about the same as it did a few months ago. For Japanese investors, 10-year Treasuries still yield about 35 basis points more, the most in nearly two months. U.S. yields are close to the highest since May for Europeans.
In theory, events this week could all align to batter Treasuries. The BOJ could follow through on letting long-term yields grind higher, which JPMorgan Chase & Co. says will lead Japanese investors to sell foreign bonds and bring money back locally. The Treasury Department's release of its latest borrowing plans may pressure interest rates higher. Another strong jobs report might convince traders that the Federal Reserve can go ahead with even more rate increases.
But the U.S. last week reported its strongest quarterly gross domestic product in four years, and Treasuries rallied. That's because a lot of good economic news is baked into the current levels of both the equity and bond markets. In fact, expectations in the U.S. are so high that the actual data is disappointing investors by the most in 10 months, as measured by Citigroup's economic surprise index.
All the while, U.S. equities are on pace for their third consecutive day of declines, the longest losing streak in six weeks. Some investors, including Scott Minerd at Guggenheim Partners, have said to watch for a "tug of war" between markets this year, keeping the Treasuries sell-off in check. From that perspective, it's no coincidence that 10-year yields fell from 2.99 percent just after the U.S. stock markets opened.
The 10-year Treasury note will no doubt breach the 3 percent threshold again. Just don't expect this latest push to be the one that ushers in a proper bond bear market.
This column does not necessarily reflect the opinion of the editorial board or Bloomberg LP and its owners.
Brian Chappatta is a Bloomberg Opinion columnist covering debt markets. He previously covered bonds for Bloomberg News. He is also a CFA charterholder.