'Wonder Woman' Will Debut Both in Theaters and on HBO Max
(Bloomberg) -- Warner Bros.'s "Wonder Woman 1984," the only big movie still scheduled to debut in theaters this year, will premiere on AT&T Inc.'s HBO Max the same day it appears in cinemas, an unusual approach that shows how much the coronavirus pandemic has upended Hollywood.
The film will premiere in U.S. theaters and HBO Max on Dec. 25, nine days after it starts appearing at cinemas in international markets, Warner Bros. said in a statement Wednesday. HBO Max subscribers will have a month to see the movie at no additional cost.
"We realize that a lot of consumers can't go back to the movies due to the pandemic, so we also want to give them the option to see 'Wonder Woman 1984' via our HBO Max platform," said Ann Sarnoff, chief executive officer of WarnerMedia Studios and Networks Group.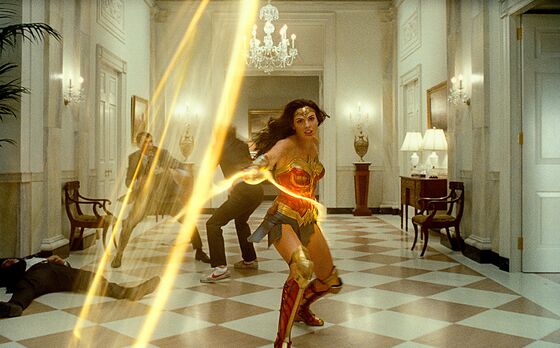 The film's director, Patty Jenkins, confirmed the move earlier in a tweet, saying that fans should see the movie in theaters if it's safe to do so -- otherwise, they can enjoy it at home.
Releasing a would-be blockbuster like "Wonder Woman 1984" to home and theater audiences concurrently would have been unthinkable earlier this year, and for decades before that. However, the pandemic has made it impossible for studios to generate the kind of returns at the box office they need to recover their investments in big films. Cinemas in two of the biggest moviegoing markets in the U.S. -- Los Angeles and New York City -- are closed entirely.
Against this backdrop, several major movies from other studios were shunted online this year, including Walt Disney Co.'s "Mulan." The studios have been typically charging about $20 to see those films at home. "Wonder Woman" won't have an extra fee, but it will require fans to sign up for HBO Max, which costs $15 a month.
New WarnerMedia chief Jason Kilar is looking to accelerate subscriber growth at the online platform, a six-month-old competitor to Netflix Inc., and probably chose to make the film surcharge-free to fuel signups.
"We will be paying close attention to the numbers of families and fans diving into HBO Max," Kilar wrote in a blog post. "We certainly anticipate that a portion of fans will choose to enjoy 'Wonder Woman 1984' that way on opening day and beyond."
Under any other set of circumstances, a move like this would be decried by theater owners, who have long enjoyed the right to exclusively show new blockbuster films for two or three months. However, they've been battered by the effects of the coronavirus. Most cinemas have been closed for portions of 2020 and those that have reopened don't have many new movies to show. Most big films have been delayed until 2021.
Bloomberg reported earlier that theater and studio executives were negotiating to keep the "Wonder Woman" release day on Christmas, potentially drawing crowds to the cinemas as they embark on a fragile rebuilding process. It was then expected to be made available online shortly thereafter. In exchange, some theater executives expected to receive a one-off payment from Warner Bros., people familiar with the matter said.
Having the online and theater premieres on the very same day will make "Wonder Woman 1984" even more of an experiment.
"We will be measuring the performance of this movie in an entirely new way," Kilar said, taking a line from another Warner Bros. property, "The Wizard of Oz." "We're not in Kansas anymore."