'Unprecedented' PG&E Uncertainty Spurs Morgan Stanley Downgrade
(Bloomberg) -- As mounting concern about PG&E Corp.'s wildfire liabilities drove its shares lower for a sixth straight day, Morgan Stanley analysts backed off of their bullish recommendation and cut their price target by more than half, citing an "unprecedented level of uncertainty."
The stock fell as much as 30 percent Thursday, pushing the six-day drop to more than 63 percent. California's biggest utility owner has been roiled as wildfires continue to ravage the state. Morgan Stanley analysts led by Stephen Byrd cut their rating on PG&E to the equivalent of hold from buy and lowered the price target to $31 from $67. They had been bullish on the stock since early 2016, according to data compiled by Bloomberg.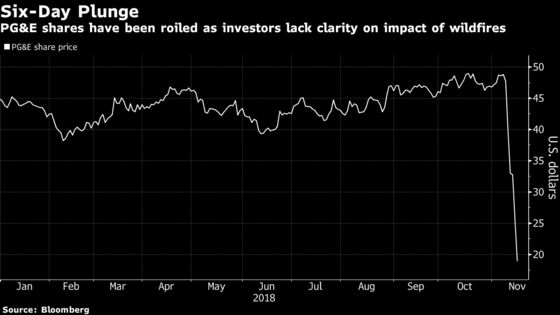 "The frequency and extent of severely damaging fires, as well as the financial market's loss of confidence in the CA utility stocks, highlights the urgent need for new legislation to better protect utilities from the risk of financial distress and utility shareholders from potentially unlimited fire liabilities," the analysts wrote. "However there is no clear path to new legislation in the near-term."
Morgan Stanley's downgrade leaves PG&E's shares with seven buy ratings and nine holds. Edward Jones downgraded its recommendation to sell from hold on Tuesday. The average analyst price target is $47, more than double the level where shares are trading now.
PG&E's stock "currently reflects $25 billion of liabilities on top of a 30 percent discount to the group on underlying earnings power," Morgan Stanley said in its notes. The analysts estimate the total damages from the 2017 and 2018 wildfires to be about $9 billion after legal settlements, taxes and insurance proceeds.
"But with the outstanding uncertainties we noted above, we are concerned that the stock will not re-rate until greater regulatory clarity is achieved, which is unlikely in our view until later in 2019," they wrote.