'Still Too Much Optimism' in Semi Stocks, Morgan Stanley Says
(Bloomberg) -- The semiconductor analyst who first warned of a potential downturn back in August says weaker demand and growth prospects may not be fully priced into shares even after sharp price declines.
"There is still too much optimism from the companies and from investors," Morgan Stanley's Joseph Moore said in a phone interview. "It feels early to call a bottom on fundamentals when we're really just looking at the first weak quarter."
The Philadelphia Semiconductor Index fell more than 2 percent in early trading on Tuesday, building on a nearly 4 percent drop in Monday's session, though it subsequently pared those losses to trade slightly higher on the day.
Sentiment has turned decidedly negative since Moore downgraded the sector to cautious on Aug. 9, writing that greater inventory and lead times left "no margin for error" in the event demand slowed down. The index is down more than 17 percent from a recent peak in September.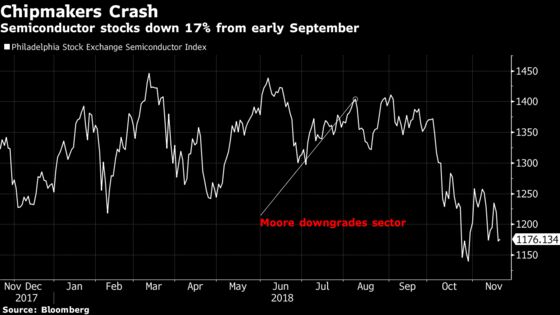 Much of the weakness erupted in the recent earnings season, where disappointing revenue outlooks cast doubt on the sector's growth prospects. Other issues, notably the threat of greater trade tensions between the U.S. and China, have also pushed investors to the sidelines.
"It's hard to know if there's another shoe to drop. You have questions around smartphone demand, the Chinese economy, and trade wars, all of which add up to this being a challenging space to invest in," said Weston Twigg, equity research analyst at KeyBanc Capital Markets, by phone. "We're not out of the woods yet. We haven't seen the kind of correction where you'd say that the decks are clear, so just buy it as a whole."
Nvidia Corp. is among the most notable decliners in the recent sell-off, down nearly 50 percent from an Oct. 1 peak, though it rose 5 percent on Tuesday. Peer Advanced Micro Devices Inc., although it remains up nearly 90 percent for 2018, has dropped about 40 percent since late September.
Moore continues to like Nvidia, as well as Xilinx Inc., saying they "have growth drivers that continue to look compelling above the macro." He also cited Lam Research Corp., which has dropped 37 percent from a March record and could be "one of the first to recover." Semiconductor equipment companies in general appear relatively attractive, while memory companies still look risky.
With memory chips, "at this point I'm not even able to craft a narrative that it is going to recover," Moore said. "It's just too early, and I think a little bit of time has to go by, and I think we need to see some inventory issues get resolved." He speculated that NAND chip stocks may not recover until the second half of 2019, while DRAM companies may not improve until 2020.
Samsung Electronics Co., SK Hynix Inc. and Micron Technology Inc. are the largest players in the DRAM space. Micron sank as much as 7.6 percent in early trading Tuesday after Baird downgraded the stock two notches to underweight, citing "continued deterioration in both DRAM and NAND pricing." However, the stock swiftly pared most of those losses, and last traded down 0.7 percent on the day.
Twigg and Moore remain optimistic about the long-term growth prospects for semiconductors overall, but both expect several quarters of volatility before the issues driving the recent weakness have been addressed.