'Seinfeld' Streaming Debut Helps Netflix Extend Advance
(Bloomberg) -- A famous "show about nothing" is giving Netflix Inc. investors something to get excited about.
Shares of the video-streaming service rose 2.3% on Wednesday, with the stock falling short of a record close but ending at its highest level since January. The advance, which extends a recent uptrend, came after Netflix announced that the sitcom "Seinfeld" would begin streaming on Oct. 1. The debut has been long awaited -- Netflix won the rights to all 180 episodes in 2019.
The show's arrival "may not only be a key catalyst for user growth but a way to lower churn," wrote Geetha Ranganathan, an analyst at Bloomberg Intelligence. "Acquiring proven comfort-food content like the iconic 'Seinfeld' is critical, especially as most studios have pulled back their hit shows for their own streaming platforms."
Wednesday's gain marked the fifth straight positive session for Netflix shares, which are up 14% from an August low. The stock's ascent coincided with a positive session for large-cap technology and internet stocks broadly.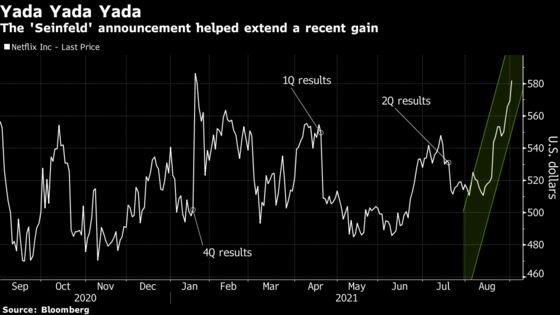 Despite the recent rise, Netflix shares have underperformed this year, as investors question the outlook for subscriber growth following last year's pandemic-fueled surge. The stock's 2021 advance of nearly 8% is well below the 20% rise of the S&P 500 Index, as well as the 30% advance of the S&P 500 Communication Services Sector Index. 
On Tuesday, BofA highlighted the importance of the company's content slate as a factor that could support subscriber growth in the second half. Analyst Nat Schindler added that the slate "seems solid compared to other platforms."