EDF, Engie Among Stock Winners From Power Turmoil, Barclays Says
(Bloomberg) -- European power prices are on fire but analysts have yet to reflect this in their earnings forecasts for some of the region's biggest utilities, such as Electricite de France SA and Engie SA, according to Barclays Plc. 
"European power prices are facing the perfect storm," Barclays analysts led by Peter Crampton said in a note. "One of our key arguments is that consensus still does not reflect the power price rally." 
The surge in power costs to record highs in major European markets is driven by "considerable stress" in commodities prices, Barclays analysts said. Concerns about low gas storage levels in Germany this winter could drive power prices even higher, they added. 
The Barclays team lifted earnings estimates for potential winners from this trend and is particularly positive on the European utilities where the boost is currently under-appreciated by other analysts, including EDF, Engie and RWE AG.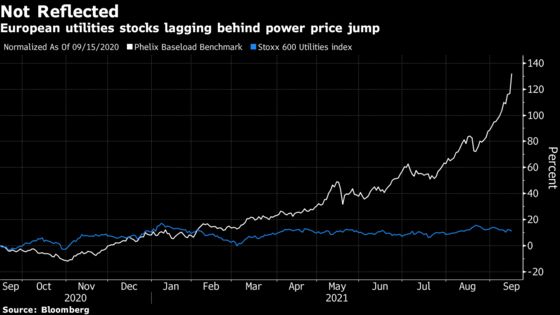 "Given the gravity of the issues driving power prices higher, we think the scale of the EPS impact should drive increased investor positivity, particularly for European utilities that are set to benefit from high absolute power prices but have so far been left behind," they said. 
Power prices have surged amid low wind and a disruption to U.K. interconnectors, while natural gas prices continue to break records amid ongoing worries about supply security in the winter months.
Governments are starting to respond to the surging prices. Spain said it will limit windfall profits for power utilities, a plan which sent domestic players like Endesa SA falling on Tuesday. Meanwhile, Italy intends to use public funds to reduce the impact of higher gas prices on consumer electricity bills.