'Parental Insanity' Drove McGlashan to Scam, Son Says
(Bloomberg) -- Former top TPG executive Bill McGlashan was in the grip of "parental insanity" when he took part in the U.S. college admissions scam, his son told the judge who will sentence McGlashan on Wednesday.
"As time went on, I watched my father get more and more stressed about college," McGlashan's eldest son wrote in a two-page letter asking for leniency for his father, who paid to inflate his test scores. It was "compulsive monitoring based on his anxiety" that "going to the right college is everything in life, which had been ingrained into him from my grandparents," George McGlashan wrote. He added: "I was not stressed at all, which probably made him even more so."
George was a high school senior when his father was swept up in the scandal in 2019, along with some three dozen other parents. He told U.S. District Judge Nathaniel Gorton he was barred from attending graduation after the news broke. He said his dad was led astray by the scheme's mastermind, admissions strategist William "Rick" Singer.
While Singer devised a plot that boosted his ACT college entrance exam score to a near-perfect 34, his father wasn't aware that he was scoring well on practice tests. When he later retook the test, he earned a 33.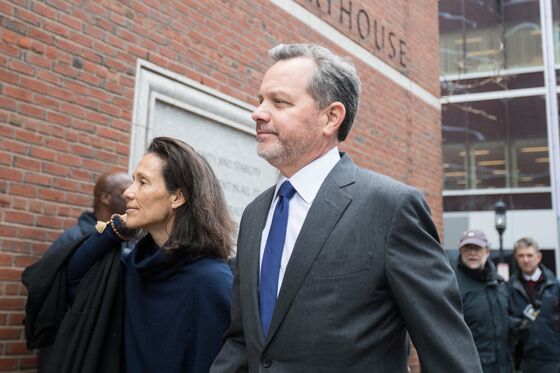 "Without a doubt, a part of my father died the day of his arrest," he told Gorton. "His inexplicable behavior, for which you are tasked with sitting in judgment, is a total exception to the way he has lived his life."
Now Bill McGlashan, 57, faces three months behind bars. The Mill Valley, California, investment professional will appear before Gorton after pleading guilty in February to one count of aiding and abetting wire fraud. Under a plea agreement he struck with the government, he will serve 90 days in prison and pay a $250,000 fine. Both prosecutors and defense have the right to withdraw from the deal if Gorton imposes a different term.
McGlashan is the 30th parent to plead guilty in the sprawling case, which also caught up college athletic coaches and test proctors across the country. Eight other parents are tentatively set to go on trial in September.
McGlashan is a seventh-generation Californian who co-founded the socially conscious Rise Fund with rock star and activist Bono and eBay Inc. billionaire Jeff Skoll. Like his father, McGlashan graduated from Yale University and Stanford business school. He worked at Bain Capital before co-founding a venture capital firm.
Among more than 60 letters from friends, family and colleagues submitted to the court on his behalf is one from the Sudanese-born telecommunications billionaire and philanthropist Mo Ibrahim, who said he met McGlashan through Bono. McGlashan brought TPG to Africa "to create jobs and prosperity," Ibrahim wrote, and sought a partnership with his foundation "to help transparency and ensuring clean business on the continent." That made their relationship all the more painful when the scandal broke, he said.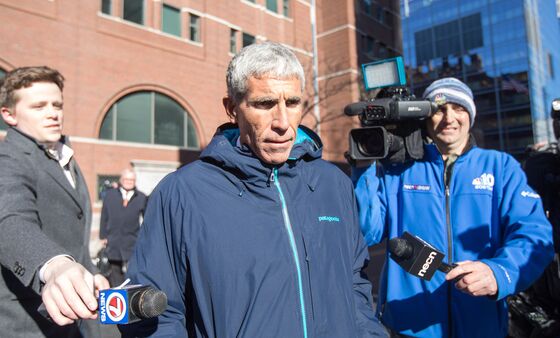 "This man is a decent human being," Ibrahim wrote. "He embarrassed me, his friends and family but above all, himself by that awful slip of judgment, but I also remember all his relentless good work in Africa."
Skoll told the court he hopes that when McGlashan completes his prison term, Skoll and Bono can create a new fund with him, like the Rise Fund, which offered financial support to Indian dairy farmers and delivered medical help in Zambia.
"The real loser of the last two years has been the world, as Bill's unique talents and station enabled him to make sizable and important changes," he wrote.
McGlashan is "profoundly remorseful" for his crime, which severed him "from his life's work and passion," his lawyer Jack Pirozzolo said in a court filing. He lost millions of dollars in compensation based on returns generated for investors over 15 years with TPG Growth and the Rise Fund, according to the filing.
'Fully Embraced the Fraud'
McGlashan admitted to paying $50,000 to Singer and two associates to fix his son's test scores. Prosecutors originally alleged that he participated in a second, "side door" scheme in which he discussed paying $250,000 to get his son into the University of Southern California as a purported football recruit. As part of McGlashan's plea agreement, they agreed to drop those allegations and three charges including money-laundering conspiracy.
In their own sentencing memo, though, they said McGlashan had "fully embraced the fraud" and continued to talk to Singer about getting special accommodations to help his two younger children cheat on tests.
"McGlashan engaged in serious criminal conduct," they said, and "celebrated" the cheating with Singer in an email saying, "You have a very relieved and motivated young man! Very grateful!"
The case is U.S. v. McGlashan, 19-cr-10080, U.S. District Court, District of Massachusetts (Boston).